The Acne Wash that Healed my Skin
This post is sponsored by The Humane Company. Thank you for supporting the brands I love! As always, all opinions are my own.
I don't talk a lot about beauty or skincare on my blog, so you might not know that I struggled with acne for nearly a decade. My teen years weren't too bad, but in my 20s, it started to feel like it was never going to go away, and I was really self-conscious about my skin.
Here I am in my early 20s, with concealer and foundation on, attempting to cover up the blemishes. I never left the house without a full face of makeup.
I was working a "grown-up" office job, but I felt like I still looked like a teenager. I tried every drugstore facial cleanser (Clearasil, Clean & Clear, Neutrogena, and more) with the hope that something would work. I got a subscription to Proactiv, trying every product they sold me. I eventually went to a dermatologist for a prescription-strength cream. Nothing worked.
After years of trying everything I could think of, I was approaching 30 and my skin was still covered in pimples. Some of them weren't just cosmetically annoying… they were actually painful!
After tossing a few expensive cleansers that were making my skin even worse, I started browsing Amazon, hoping I might find a new solution. I stumbled upon Humane Acne Wash and was intrigued by the thousands of positive reviews. I'd already spent hundreds of dollars on every face wash, cream, and serum I could find, so I gave it a try.
Once I started using Humane, my skin started slowly healing. It took a few weeks for the blemishes to calm down, but I could tell my skin was responding. I used the Acne Wash every morning and night, leaving the nonfoaming lotion on for about a minute before rinsing it off. I stopped using other products to be sure that it really was this new face wash that was clearing up my skin.
As the patches of acne began to clear, I was thrilled. Even the hormonal acne that usually showed up around that time of the month completely disappeared. My skin cleared up and it has stayed clear ever since. I've been using Humane skincare products for 18 months, so I can confidently say they work better than anything I've tried.
Today, I use Humane Acne Wash at night, and follow with a moisturizer. In the winter, when the air is extra-dry, I use a facial serum. During the warmer months, I use Humane's Oil-Free Moisturizer. In the morning, I just rinse my face with water. If my skin feels a little oily, I'll dab on a bit of Humane Clarifying Toner and then I'm on my way! (If I have stubborn eye makeup, I also use a makeup remover cloth to wipe away any remaining mascara.) y routine is ridiculously simple, which I love!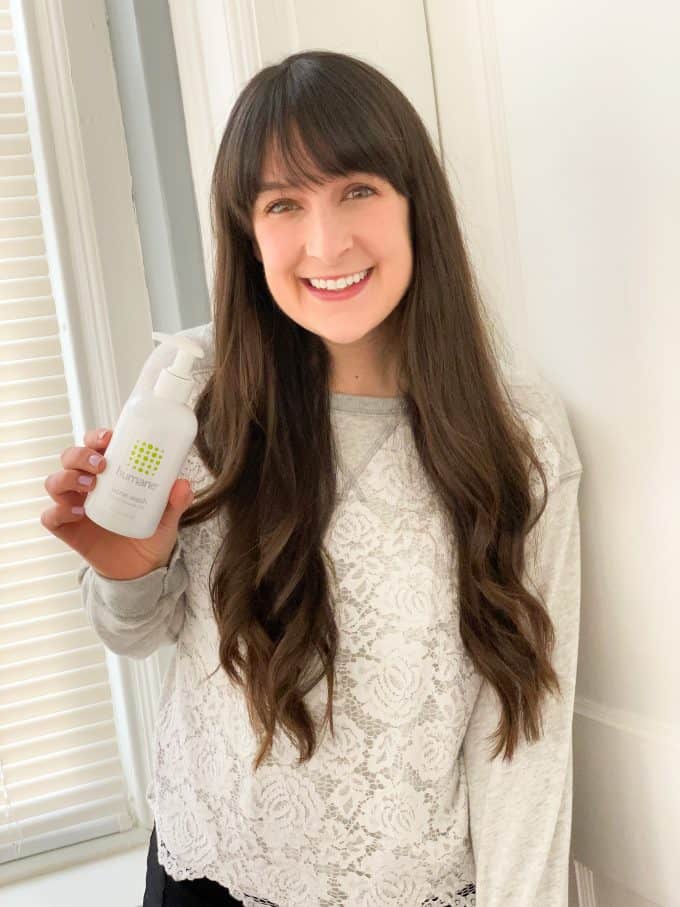 Keep in mind that Humane Acne Wash is a maximum-strength product, so you may want to test it on a small area of your skin before you jump right in. It can also bleach towels and other materials it comes in contact with, so be careful!
When using the cleanser, it might feel a little bit different than other products you've tried, because it doesn't foam. We're conditioned to think that if it's foaming, it must be working. But this isn't true; these additives don't make a product more effective. The most widely used ingredient that allows products to foam or lather is sodium lauryl sulfate (SLS), which has been linked to cancer, neurotoxicity, organ toxicity, skin irritation, and endocrine disruption. I didn't even know about this until I started researching cleanser ingredients! But with Humane's products, you don't have to worry about it.
Here's a "before" and "after" photo comparison! On the left side, I'm wearing concealer and full- coverage foundation. On the right side, I'm not wearing anything but eye makeup.
I actually had a hard time finding a "before" photo, because I usually deleted photos where my acne was visible! I never thought I'd be able to go out without a full-coverage foundation.
I love that Humane products are clean, vegan, and cruelty-free. What do I mean by clean? Humane doesn't use any SLS and SLES, parabens, formaldehydes, formaldehyde-releasing agents, phthalates, mineral oil, retinyl palmitate, oxybenzone, coal tar, hydroquinone, triclosan or triclocarban. The Humane Company is also a member of PETA's "Beauty Without Bunnies" program, which aims to eliminate animal testing for good!
If you're struggling with breakouts, give Humane Acne Wash a try! It's available on Amazon, so it can be at your doorstep in just a couple of days. It's less than $25 a bottle, and each bottle lasts around 2-3 months. (I checked my order history—I've ordered it 5 times in the last 18 months.)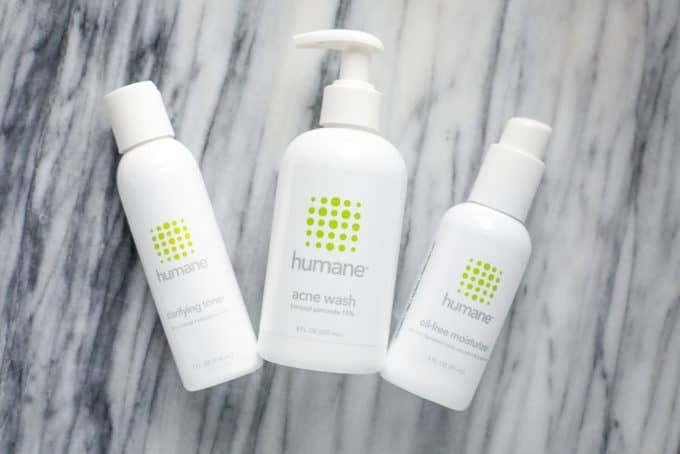 Humane's Oil-Free Moisturizer is nice and light, so your skin stays soft without feeling greasy. The Clarifying Toner is great if you have oily skin or you need something to dab on in the morning. The leave-on exfoliant has 2% salicylic acid to sweep away the excess oil and keep your pores clear! Plus, it contains green tea to keep your skin calm.
Humane products have changed my skin, and I'm so happy I found them! If you give them a try, let me know what you think! Visit thehumanecompany.com for more information, or place an order on Amazon.