Switching Up My Workouts
I've made it to the final stretch! The half marathon is this Saturday, and I can't believe how fast the training went by. I'm excited for the race, and I honestly can't believe I've made it this far. I'm happy to say that I was able to loosely follow a training plan without ever having to really sacrifice my social life. That's winning, my friends. (Does anyone have any tips on running motivation after a race?)
Now that my running is starting to cut back, I'm planning on taking full advantage of the classes that are available for the Get Well Challenge. I've already tried Hot House Yoga and FIT Richmond (loved both of those places!) so I'm looking forward to giving CrossFitRVA a shot as well. I'm not sure if cross fit is really my style, but don't knock it til you try it, right? (But neon colors? Those are apparently my style.)
Before I started training for the race, I was doing a lot of circuit workouts, weight training, and different types of cardio. While I do think my endurance has improved with all this running, I think I lost some strength, so I'm excited to get back into classes like BodyPump and BodyAttack (and maybe cross fit?) At this point, I pretty much have the opportunity to try anything! I usually get bored pretty easily, so I'm hoping to switch things up often. I haven't been to Zumba or BodyJam in forever, and those are some of my favorite ways to get in cardio, so I'll be hitting up those classes this week! Things that that make workout out fun, so I don't get tired or bored.
To help myself stay on track this month, I wrote out a few goals. I find that my goals are much easier to achieve if I write them down and shout them out!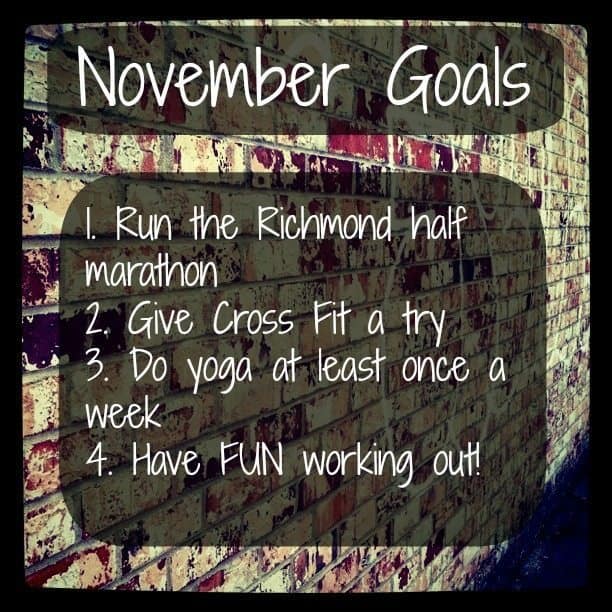 Have you set any goals for November?