Mise En Place Cooking Class!
First off, a confession: I'm a LivingSocial addict. I can't pass up a good deal. So when I saw a deal for a cooking class at Mise En Place, I had to sign up!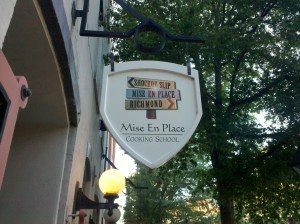 I'd never taken a class before, so I really didn't know what to expect. Eric and I signed up for the "Ultimate Pantry Plates" which was fantastic, because it showed you how to make 6 dishes, using ingredients that you'd actually have in your pantry! (Don't you hate when you find a great recipe that takes 14 things you'd never have at home?) There were 16 of us in the class, which worked out well, so Eric, our two friends, and I could be on a "team" together.
We quickly volunteered for the vegetarian dish (upon my request, hehe) which was Pasta Puttanesca, a delicious, flavorful linguini dish!
Our instructors made it easy, by having all the ingredients out and ready to go. We got to chopping, and made a bit of a mess… but you know that's how I roll 😉 The dish was relatively simple to put together, and doesn't require a whole bunch of crazy ingredients. Here's the recipe!
Pasta Puttanesca
A recipe from the lovely ladies at Mise En Place
8 oz of linguini
1 tbsp olive oil
2 cloves garlic, minced
1/3 cup parsley
1/4 cup chopped olives
2 tbsp capers
1 tsp of anchovy paste (We didn't use this… since I don't do the fish thing)
1 tbsp of fresh oregano or 1 tsp of dried oregano
1/8 tsp red pepper flakes
3/4 cup fresh arugula
1/4 cup Parmesan cheese
Directions: Bring a large pot of water to a boil, add pasta and cook according to the directions on the package. While the pasta is cooking, heat the oil in a large skillet over a medium flame. Add the garlic and saute for about 1 minute. Add the parsley, olives, capers, anchovy paste (if you're using it), oregano, red pepper and saute for 2 more minutes. Add the tomatoes and simmer for 5 min. Stir in arugula until it begins to wilt. Then just add your cooked pasta and cover with cheese. Not too tricky, right?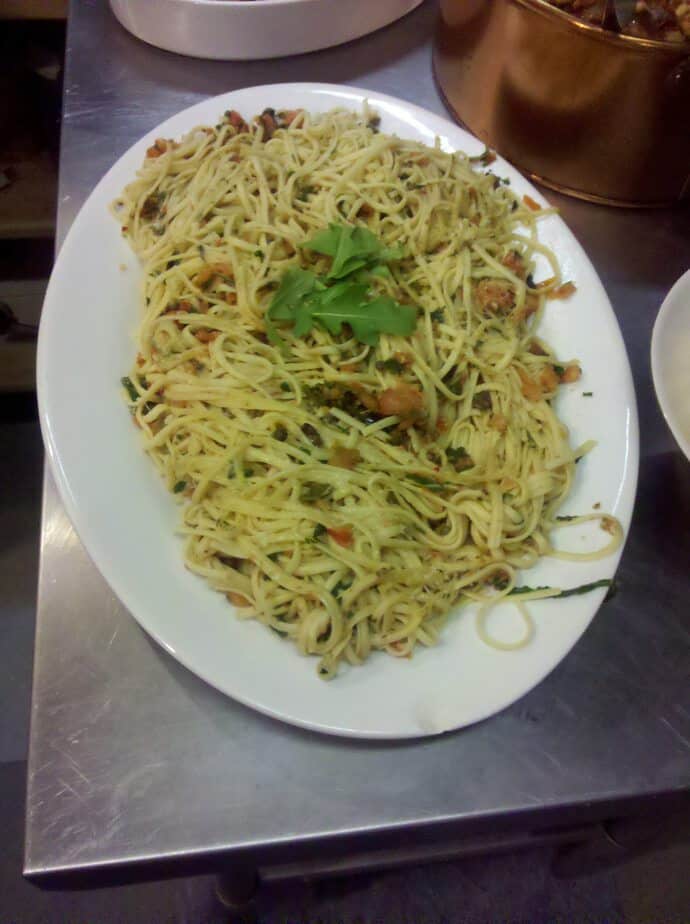 We made a double batch, which meant a huge platter of pasta. The other teams made Curry Chicken, Italian Sausage with Cannellini Beans, and a fantastic Artichoke & Goat Cheese Salad.
Oh, and for dessert, we made cake balls!! (I'll post the recipe for this later!)
Look at that spread! Which dish would you like to try? Have you ever taken a cooking class?
If you live in RVA, I'd highly recommend a class here! The staff was wonderful, and the class was so much fun!
<3 Liz