*Phew* it has been quite a week! I got back from Nashville late last night and basically collapsed in a heap on my bed. The past few days were so much fun. I met tons of small business owners and I just love hearing people's stories. I also got to hear some amazing speakers, like Bert Jacobs, the guy that founded Life is Good. He basically had the audience in tears, and he seemed like such an amazing visionary. I also managed to snap a selfie with Mark Cuban.
I can't wait to watch Shark Tank with my soon-to-be mother in law, who is just as crazy as I am about the show!
But enough about business, let's get into some recipe talk. Let me start by saying I'm not a fan of cole slaw. I have something against mayonnaise that I can't totally put my finger on, but I'll avoid mayonnaise at all costs. So this is sort of a cole slaw recipe, but there is no mayo involved. Instead, this is full of fresh, crunchy, veggies and the creaminess comes from goat cheese.
I didn't try goat cheese until just a few years ago. I know that sounds ridiculous but it just wasn't something that we ate at my house. And you don't eat fancy food in college, right? Right. So now I'm making up for it by eating goat cheese regularly. There is a local goat cheese maker here in Richmond called Goats R Us and they make amazingly creamy goat cheese. I used a dill goat cheese in this recipe, but you can use plain goat cheese and just add a little dill.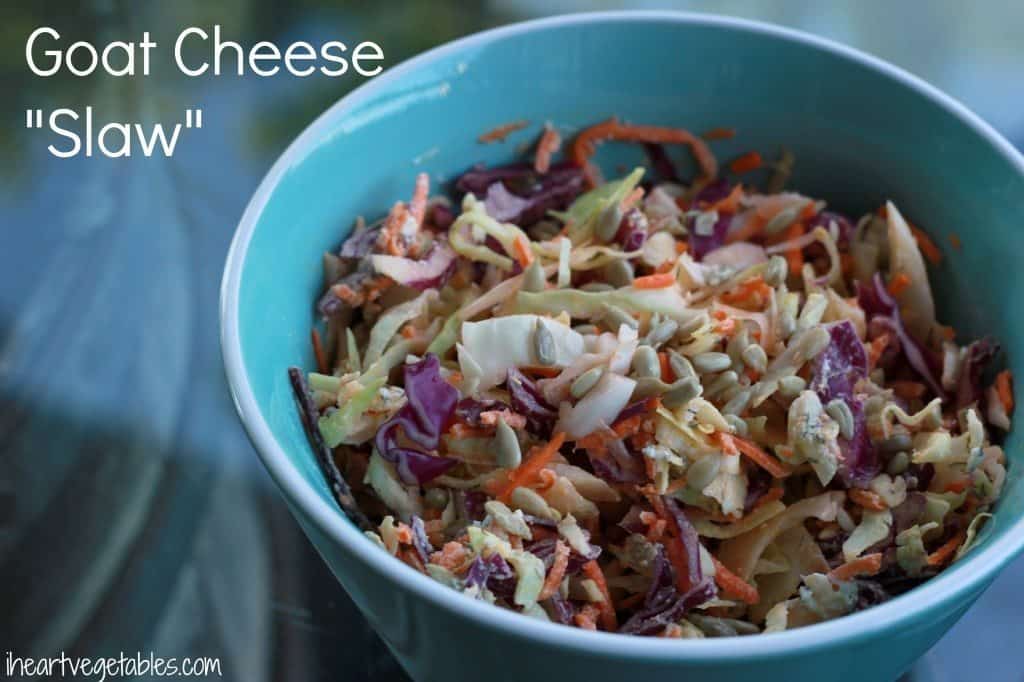 Goat Cheese "Cole Slaw"
This cole slaw uses goat cheese rather than mayonnaise for a creamy taste!
Cuisine:
Vegetarian, Gluten Free
Ingredients
4 cups cole slaw mix (shredded cabbage, purple cabbage, & carrots,)
¼ cup goat cheese
2 tbsp sunflower seed kernels
3 tbsp fresh dill, chopped
½ tsp garlic powder
1 tsp salt
Instructions
Toss the cole slaw mix in a giant bow and stir in the goat cheese using a fork. I sort of mashed it into the chopped veggies until they were coated.
Toss in the sunflower seeds, dill, garlic powder, and salt. That's it!
Serve chilled.
Alex and I ate a heaping portion of this with
Hilary's Eat Well Adzuki Bean Veggie Burger.
I love how crunchy it is, and it's amazing how the goat cheese makes the whole thing so flavorful and creamy!
Are you a cole slaw fan?