Fed Up: "The Film The Food Industry Doesn't Want You to See"
Ok, so I've watched a lot of documentaries about food. Netflix is full of them. Food Inc, Forks Over Knives, Fat, Sick, & Nearly Dead… so I almost skipped over this one. At some point, it's just sort of the same old thing. But since I was battling a cold and we didn't have much else to do, we decided to give Fed Up a shot. I'm glad we did.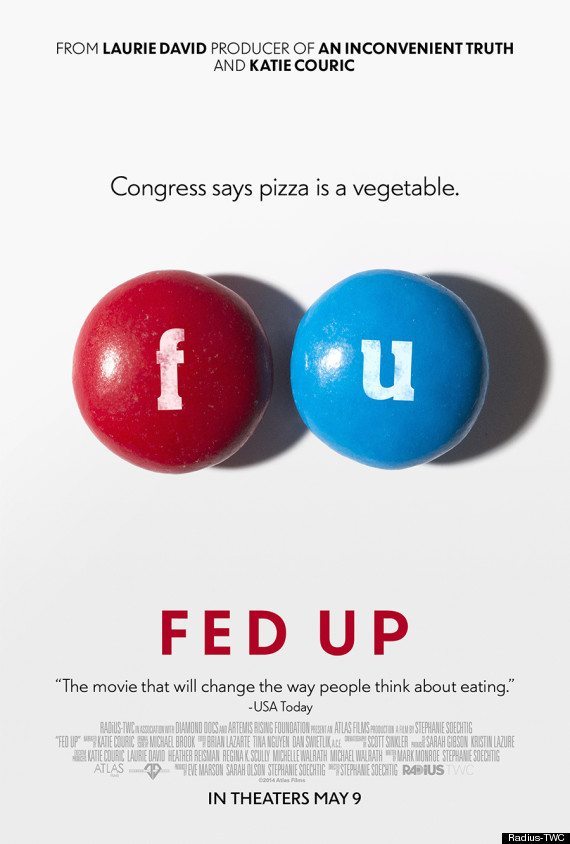 I'll caveat this by saying yes it's a little extreme. That's kind of the point of these things, right? It points out a few things you probably already know, like that our food system is broken, the government is in it for money, not our best interests, and there is sugar in everything. And I know that no system is perfect… and I know you'll never be able to take the money out of it entirely… and I know that (some) sugar won't kill you, but I think this documentary does a good job of opening your eyes to the magnitude of these problems. It's crazy to think about how much money we're spending , as a country, on healthcare related to obesity. Here is one of my  favorite quotes from the movie:
"If a foreign nation was causing our children to become obese, that's going to affect their health and hurt their happiness, cause them to be depressed, have poor self-esteem—if a foreign nation were doing that to our children, we'd probably go to war. We would defend our families. So why do we accept this from our own country?" Dr. Harvey Karp
I know that there are tons of factors at play here. I know that we can't necessarily just point fingers at the food manufacturers and blame the FDA for everything. But you know what? We live in a place where it's really hard to eat healthy. Between the convenience and low cost of fast food, to the absolutely endless amounts of food advertising, to the food marketing that is trying to make you think something is better than it is… it takes a lot of work to sort through it all.
I went to the grocery store on Saturday and decided to try to cut down on the amount of added sugar we consume. There was added sugar in everything. Salsas, peanut butter, spaghetti sauce, mandarin oranges… it took me almost an hour to make it through the store because I was reading the ingredients of everything. While a little sugar here and there isn't the worst thing in the world, I don't think I need it in everything. 
So Alex and I are taking a little break from added sugars for now. (I'm giving up stevia as well!) It was harder than I thought it would be just to stock up the pantry, but now that we've got a house full of healthy ingredients, I think we can do it! I've never really given sugar much thought, so it should be an interesting little experiment.
While I'm at it, I picked up a few new books from the library:
Have you read any of these? I'll let you know what I think once I'm finished!
Ok, stepping off the soapbox for now. I would love to hear what you think!
Looking for more food documentaries? Check out my complete list of the best food documentaries on Netflix!
Have you seen any food documentaries? What do you think?