I've always wanted to be one of those girls with effortlessly perfect skin. The kind of human that just rubs some magical coconut oil on her face at night and wakes up with perfectly even, glowing skin. But that's not me and it's never been me. Since high school, I've had "how-many-Proactiv-products-can-I-fit-in-my-cabinet" skin. It's not fun and anyone that has battled acne knows what I'm talking about. As I've gotten older, it's significantly improved but I accepted the reality that a moderate amount of blemishes are here to stay, and that's that.
I spend a lot of time thinking about what I put in my body, and I recently started thinking more about what I put on my body. I decided to try a more "natural" routine, but I was seriously skeptical. Can these products really work on my troubled skin? Does putting oil on my face cause more breakouts or does it actually help? And this isn't limited to my face. I've been trying to answer the million dollar question… is there a natural deodorant that will actually keep me from smelling bad? And what about perfumes? Is there a natural alternative? I've spent the past few months trying out some new products and I'm excited to share what I've found!
I certainly don't have all the answers, but I wanted to pop in and share what I've been using. I'd also love to hear your recommendations! One quick note: none of these products are sponsored. I did receive some free samples but I was not required to share or mention any of these products. These are truly just the ones I loved!
Natural Face Wash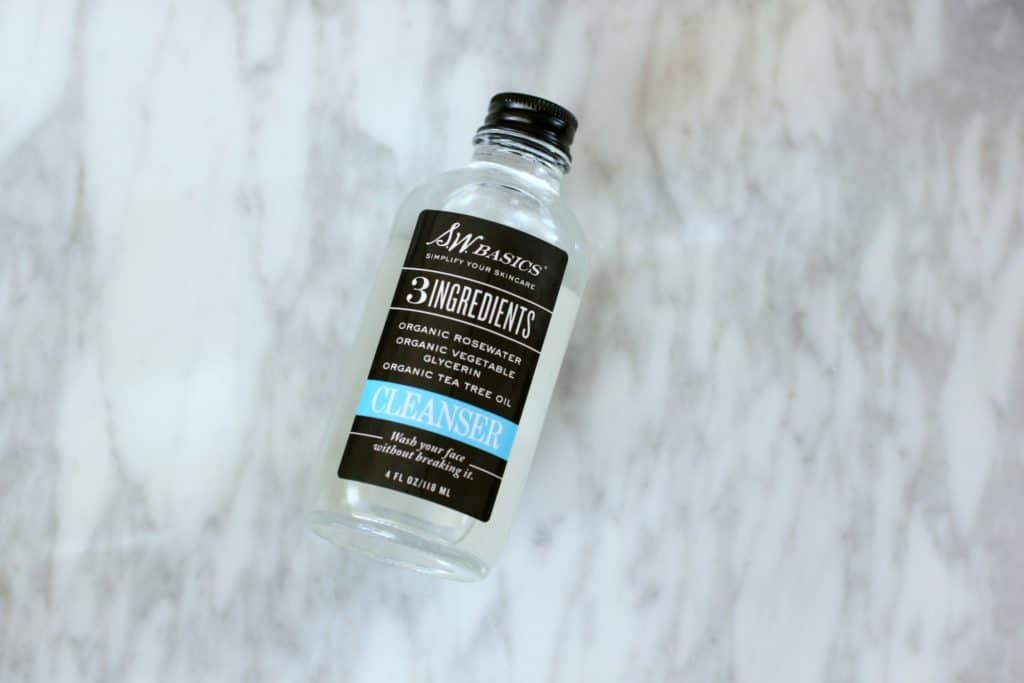 Let me start by saying I haven't totally converted on this one. I'm still using Proactiv at night a few times a week, but I've started using this cleanser in the morning. I'd eventually like to phase out Proactiv entirely (my sheets would be so happy) but I didn't want to do anything too dramatic. I've been using this S.W. Basics Cleanser and it's been great so far. It leaves my face feeling clean but not dry. It takes a little getting used to because there's no bubbles or lather. You use a cotton ball to swipe it over your skin and then rinse it off. I felt like this didn't always remove all my make up, but it was nice in the morning when I had a makeup-free face.
Natural Facial Serums
I met Mackenzie, the owner of Mac's Smack, at a Mindful Mornings event earlier this year and we obviously started talking about skin care. When I told Mackenzie about my quest for more natural skin care products, she sent me a bottle of this transcend elixir. I was so skeptical, it took me an entire month to even try it. (If you've ever battled acne, you understand the scary feeling of intentionally putting oil on your skin!) When I finally worked up the courage, I hesitantly rubbed a drop into my freshly washed skin and held my breath, imagining the pimples would start popping up instantly. But that didn't happen. I've been shocked at how it's made my skin feel. When the temperature drops, my oily skin usually gets weirdly flaky. (I know, it's awesome.) I've been rubbing a few drops of this on my skin before bed and first thing in the morning. It feels hydrating without making my skin greasy and I love it. It hasn't resulted in any breakouts and my skin honestly looks better than ever! This has been the biggest game-changer in my routine and I'm loving it. It's a little pricey but I've been using it for over a month, sometimes in the morning AND at night, and I've only used about 1/4 of the bottle.
Natural Lip Balm
One more thing while we're on the subject of Mac's Smack, I'm obsessed with this lip balm. It hydrates my lips without leaving them feeling sticky. The Intense Healing lip balm has been a lifesaver this winter when my lips usually get super dry.
When I want some color, I usually grab one of these Burt's Bees lipsticks. I like that they give me a nice color without making my lips feel dry or sticky.
Natural Deodorant
Ok, can we talk about the challenge that is natural deodorant?! Ugh. I've tried quite a few that I wouldn't recommend. (Schmidt's was ok at first but after a few weeks of consistent use, my skin started to get irritated.) I love the lavender myrrh scent from Vapour Beauty and it's actually been working really well. The consistency is more like a cream/gel but it comes out of a regular deodorant stick and I love the scent. It's kept me feeling fresh through yoga, Body Pump, and cardio, so I know it's a good one. The only downside is that this deodorant isn't cheap. I recently tried Crystal's new invisible solid stick and I've found it works nearly as well. The lavender and white tea scent is my favorite and Crystal is definitely a more realistic option for my budget.
Natural Perfumes
I've never been a big perfume wearer, but after I watched this documentary about the weird chemical scents that are in pretty much everything, I was even less into perfumes. That documentary is a tangent for another day, but it made me think more about the things we intentionally breathe in. Let's be real though, sometimes you just wanna smell nice. As an alternative to perfume, I've been trying these "functional fragrances" from S.W. Basics, the same company that makes the cleanser I've been using, and I've been liking them a lot. The lemongrass scent is perfect for a little afternoon pick me up and I like using the lavender one just before bed. The roller ball makes it super easy to throw into my purse or my gym bag so I have it whenever I need it. It's a really light scent so it's easy to layer on.
I'm still in the exploration phase, but I've been pretty happy with what I've tried so far. There have been plenty of duds along the way but the products above have definitely impressed me! Next up, I'm on the hunt for some natural shampoos and hair products! Got any recommendations for me?
What are your favorite natural beauty products?