Eating Through Carytown: A River City Food Tour
A few weeks ago, my friend Brian asked if I'd like to check out his food tour of Carytown. A food tour? In one of my favorite parts of the city? Um, yes. Brian started River City Food Tours in January, but he hadn't had a vegetarian try out the tour yet. That actually didn't surprise me because as much as I love food, I don't really do a lot of foodie "events" since most of them revolve around meat. When Brian told me the food tour had vegetarian options at each stop, I started getting pretty excited. (Full disclosure: Brian let Alex and I try the tour out free of charge, but he didn't ask me to blog about it, I just loved it so much I had to share!)
My old apartment was one block away from Carytown, so I'd been to all of the restaurants we stopped at, but I had a new-to-me dish at almost every stop! I also learned bits and pieces of Carytown's history along the way, which was pretty cool. We started out at Carytown Cupcakes where I had a taste of a Chocolate Potato cupcake and an Irish Car Bomb cupcake. The potato one was a bit strange (although it was good… sort of like a chocolatey potato bread) but the Irish Car Bomb was definitely my favorite.
I didn't realize that Carytown Cupcakes does a different flavor theme each week! We caught them on their St. Patrick's Day flavors but this week I think they did different ones for the French Film Festival. It's a cool idea and it's nice to know that they'll always have new flavors to try!
We headed further down Carytown and Brian stopped along the way to tell us about how Carytown got it's name. It was nice to have a little history in there! (I mean, it's not just about the food… right?) We stopped into Water Coastal Kitchen where the meat eaters had fried oysters and Alex and I had a roasted red pepper stuffed with quinoa.
It was served with pickled celery and honestly that was my favorite part. I need to try pickling some soon.
Our next stop was my favorite. We went into Xtra's, where I've been lots of times before, but they made us all taquitos and they were amazing.
The meat eaters had something with beef but ours was potato, goat cheese, and jalapeno. Yessss. It was so good and it was a huge portion size for a tasting! We stayed long enough for me to sip on a glass of red wine which was perfect. This was definitely my favorite stop of the tour!
We made a few more stops at the Virginia Diner Shoppe (the Old Bay peanuts were my favorite) and at Don't Look Back for tacos.
At Don't Look Back, they served us vegetarians the potato taco and the TVP (textured vegetable protein) taco. That's exactly what I would have ordered had I been there on my own so it was perfect.
Our very last stop was the most unique. The Nile, a local Ethiopian restaurant recently partnered with Portrait House, a bar in Carytown (that previously served pizza and burgers) so now they have an Ethiopian menu and a great list of beers on tap. Interesting, right?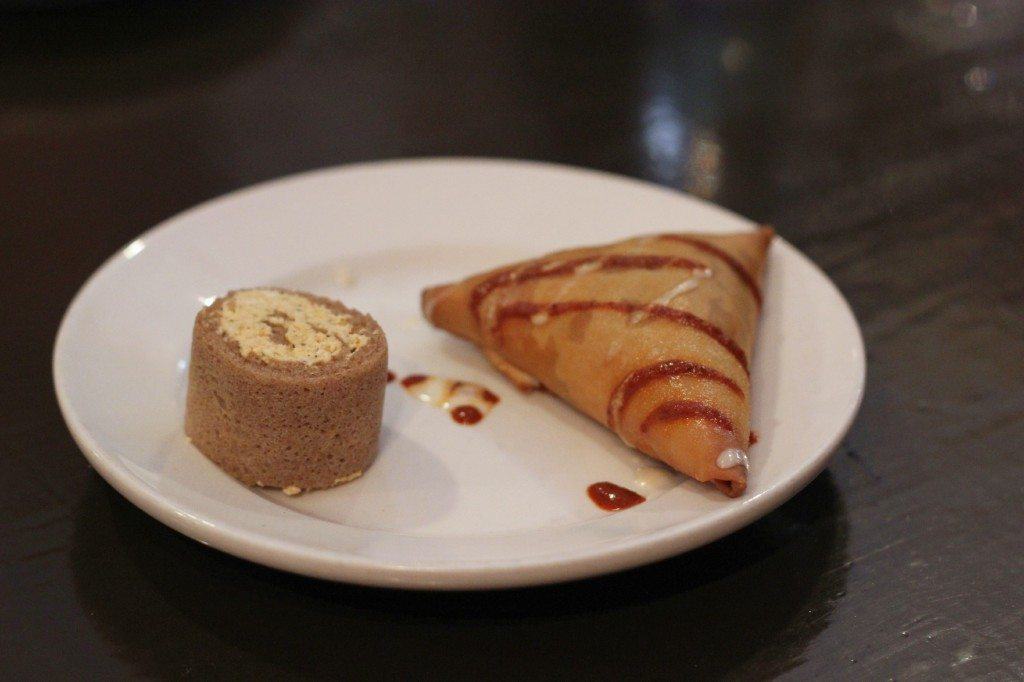 I don't know what either of these things are called (much less, how to spell them) but the dish on the left was Injera bread rolled with a spicy, creamy cheese. It was super spicy, but I liked it. The pastry on the right was savory and filled with lentils. I loved this dish. I'll have to figure out what it's called so I can order it again. Does anyone know?
The tour lasted about 2 1/2 hours and we were stuffed by the end. It was a fun way to experience Carytown a little differently. If you're from Richmond or just visiting for the day, I'd highly recommend this! It's best if you're a somewhat adventurous eater, although it's nothing too crazy. I absolutely loved knowing there was a vegetarian option waiting for me at each stop rather than wondering if I'd be able to eat something. It's also a fun way to explore Carytown and learn a little bit more about the history. If you're interested in checking it out, visit Brian's site, River City Food Tours.
Have you ever done a food tour?