Attitude of Gratitude
Hey there friends! How are you all? I'm just in a great mood today! Church was fantastic this morning, and it was about having an "attitude of gratitude." I just love that. I have SO much to be thankful for! Not to repeat myself (about things I'm loving right now) But there's just an abundance of wonderful things to be thankful for!
The gym classes are kicking my butt (literally) but I LOVE it. I did body attack today, and I'm definitely going to be sore. I've gotta recover though, because tomorrow is my first time trying Body Jam! I love Zumba, and I've heard it's sort of similar, so I'm pretty excited. I really think I'm getting stronger!!! It's pretty exciting 😉
Are there any other group-workout fanatics out there? If so, do you set goals? I'm really into goal setting, but I'm not sure how to set goals for classes. (It's much easier with things like running, where I can pick a distance and time and aim for that.) Any tips for this?
I'm also excited to go home for Christmas!!! I did most of my shopping yesterday, so it's finally feeling like Christmas! (It's my first winter away from home, so it's a little odd not being around my family during the holiday season.) I wish I could share some of my purchases, but just in case my family checks my blog, I want them to be surprised!!! Isn't it fun to give surprises?!
My food has been very repetitious lately, hence the lack of food posts. I've pretty much eaten banana ice cream every morning. I totally get in breakfast ruts and crave the same thing morning after morning. Lame, but I LOVE it. (I also read the paper every single morning. I know, I know, who still reads the actual paper? But I do, and there is no other way I'd rather start the morning!)
I've been making a lot of vegan chili because it's been so cold out. I'm sure there are a million variations of this, but this is what I usually throw in the pot:
Super-Simple Vegan Chili
1 large can (24oz I think) crushed tomatoes
1 can chickpeas
1 can sweet corn
1 can black beans
1 cup peppers (I use the tri-colored frozen ones from trader joes. So simple!)
1 medium onion
1/2 tsp chili powder
1/2 tsp crushed red pepper
1/2 tsp salt
Saute the onion and peppers in a pan with a bit of oil until the onion and peppers are tender. Combine all the other ingredients into a giant pot, and add in the tomatoes and peppers. Stir in your chili powder, crushed red pepper, and salt. You can also add in Tabasco sauce or other spices! You can also pretty much substitute any of the above ingredients for other beans/veggies. I've done it with zucchini, peas, kidney beans, pinto beans, seriously, endless combinations! What do you like to put in chili?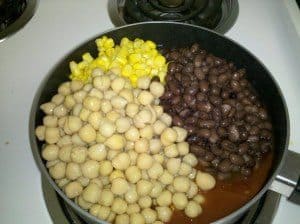 Yum!!
It's been so cold that I've been eating this hearty meal quite a lot lately. Plus, it's GREAT reheated, which is nice for packing lunch 🙂
Ok, I'm off to run a few more errands for the day, then maybe do a little yoga. I hope you're all having a fantastic weekend!
<3 Liz