What I Ate: Saturday
This past weekend was splendid. As I mentioned on Monday, it was a little chaotic but it certainly wasn't boring and I'd take chaos over boredom any day. We woke up around 7am and I immediately made some coffee and ate breakfast. I'm one of those people that has to eat breakfast and have coffee as soon as I get out of bed. Why wait, ya know?
So it was Greek yogurt, frozen blueberries and this Hudson Henry granola which is not only local but also delicious. I'm pretty sure I could eat an entire bag straight from the bag but I've managed not to do that in order to have some to sprinkle on my morning yogurt. A true test in self control, I assure you.
As soon as we finished breakfast, we got to work. Alex set up his new Miter saw (which was an undertaking in itself) and we started adding some trim to the stairs. It basically involved lots of cutting and lots of small pieces of trim. It was time consuming but I did learn how to use a nail gun so that was pretty cool. (Honestly, it was harder to aim than I expected, but had we not been using such tiny pieces of wood, I think I would have had a much higher success rate.) I also ran outside every hour or so to add another coat of spray paint on this patio furniture.
Somewhere in between the stair trim and the spray paint I whipped up a pan of baked ziti. (It's a super easy recipe so that made it easy!) We took a quick break around noon for lunch. I had a giant plate of kale salad with some almonds sprinkled on top for a little extra protein. I wanted to use up the rest of the kale in the fridge and I had a bottle garlic tahini dressing from Whole Foods (which is the best) so it was an awesome lunch.
Of course, running around the house painting and nailing certainly worked up my appetite and I was hungry by 3pm. Our house is seriously lacking in the snack department (which is kind of intentional… because I can be a huge snacker) but luckily I had popcorn in the pantry. After a few minutes in the microwave I was happily munching. I intended to share it with Alex but if we're being honest, it wasn't really a fair deal.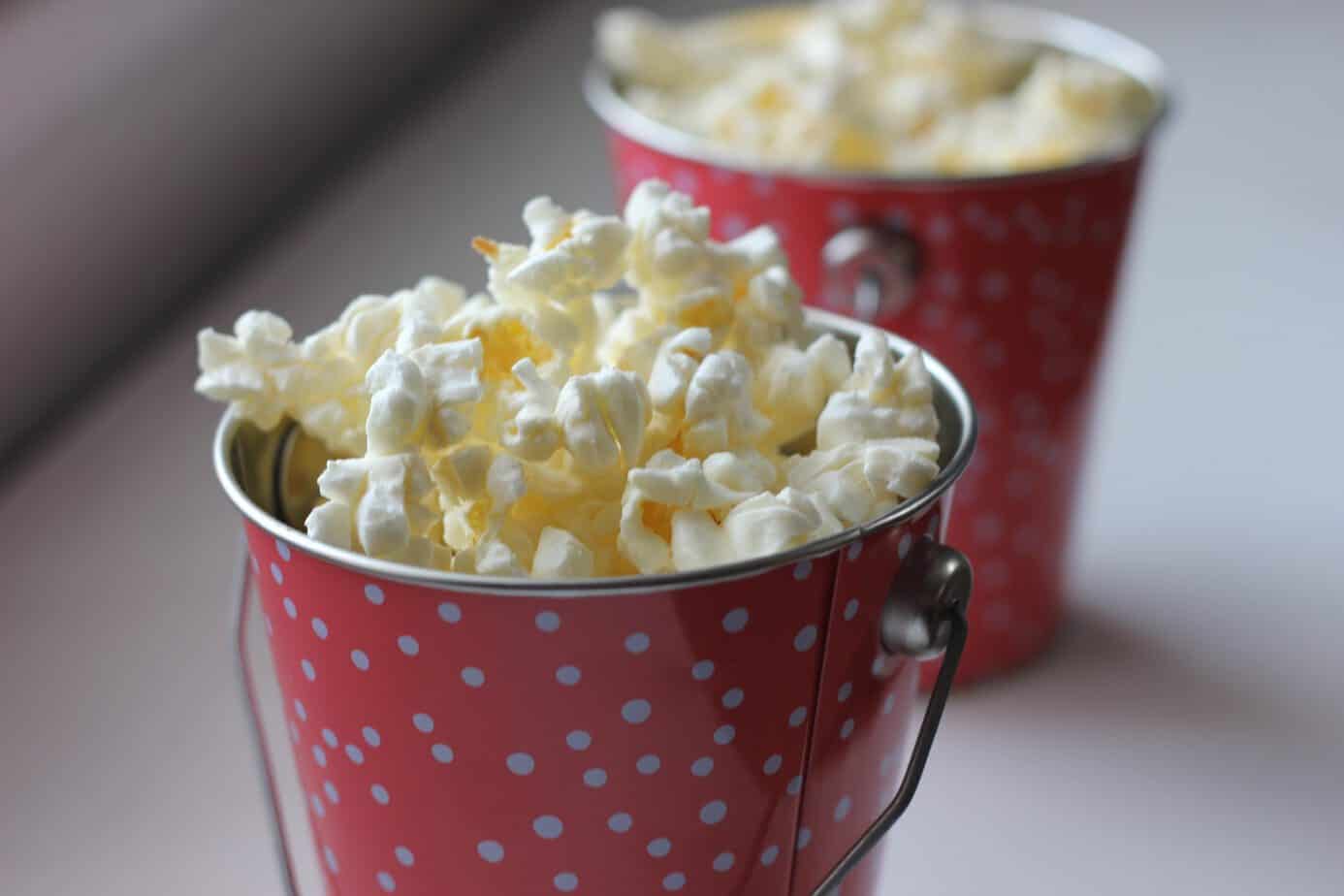 Obviously we only eat popcorn in adorable polka dot containers. Obviously. (Not really. But I found them in the cabinet while I was cleaning and they were just too cute not to be in a picture.)
Once we wrapped up the house projects my brother, sister in law, and nephews came over to visit. I hadn't seen my little nephews in a while so it was awesome getting to play with them. We all had dinner together before the Wisconsin game.
Mmm. Ziti. Carbs + Cheese = happy me.
We all watched the first half of the game together and then I headed over to Christina's house for a glass of wine, some snacks & few girl scout cookies. By that point, my camera was off duty so there is no evidence of said cookies but trust me… they we're good.
It was a jam packed Saturday but it was full of all the things I love, so no complaints here!
Are you a first-thing-in-the-morning breakfast eater?
I'm linking up with Peas and Crayons for What I Ate Wednesday!