5 Tips for Outdoor Entertaining
This post has been sponsored by Safeway. All thoughts and opinions are my own.
When Alex and I bought our house back in 2014, I had grand visions for entertaining—particularly outside. But it wasn't until last year, when we remodeled our patio, that these visions really started to come to life.
Once our yard was complete, the next step was buying a pizza oven. I'd been dreaming of a pizza oven for months and that dream came true last spring. It has been so much fun making our favorite pies at home.
Over the past year, we've had friends and family over for dinner or drinks and I think I'm finally getting the hang of it. If you're planning a backyard gathering, here are a few tips to help things run smoothly.
1. Stock up on compostable party supplies for easy cleanup.
I love having friends over, but I don't love tackling a pile of dishes when it's all over. I'm also hesitant to use glass dishes on our patio because broken glass can be difficult to clean up. This year, I stocked up on Open Nature® products exclusively available at Safeway. They're high-quality disposable products at a great value, and they're safe for the environment and my home!
All of their compostable* items are BPI certified. They're made from plant-based materials, which is better for the environment. It makes cleaning up a breeze, but I don't feel bad about using disposable plates, cups, and silverware!
2. Pick an easy meal or food theme
To me, a backyard party isn't the time to try a fancy recipe or four-course meal. I like to keep things simple. Since we love using the pizza oven, we usually have friends and family bring over their favorite toppings! We make a bunch of dough in advance and then each person can top their pie with their favorite additions.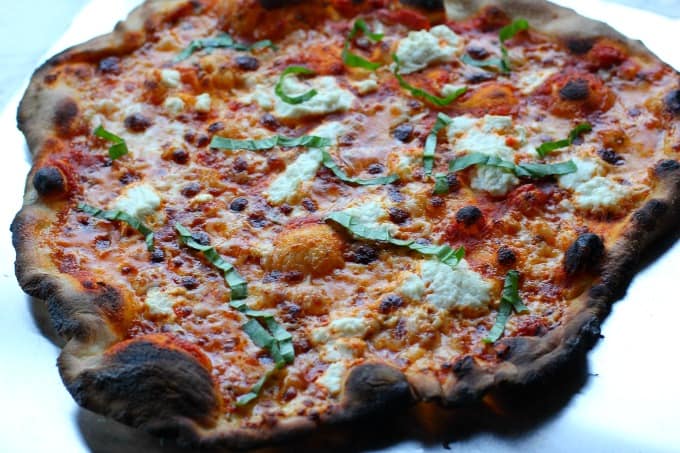 If you want to keep things super casual, just create a snack bar and drinks! I love serving things like popcorn and trail mix so people can create their own sweet and salty combination. Remember, the focus is on spending time with the people you love, not impressing them with a magazine-ready meal.
3. Plan for plenty of seating options
Depending on how many friends you're having, it might not be practical to fit everyone around a dining table. Don't stress about having an exact amount of table and chairs, just make sure your guests have a place to grab a seat if needed. We have a large table and chairs on our deck which is great for a smaller group, but we also have a seating arrangement on the patio for overflow.
4. Serve easy drink options
Whether you're serving a cocktail or a mocktail, making a big-batch drink can save you time once your guests arrive. I love making a pitcher of sangria so guests can pour themselves a glass before relaxing outside!
You can also create a DIY drink bar. Open Nature's plastic-free cold cups and BPA-free straws are the perfect staple for your earth-friendly bar cart. Just add a few basic drinks (wine, champagne, or your favorite liquor) and an assortment of mixers. Guests can make their own drink, which means you won't be caught mixing cocktails all evening!
Make sure to have a few non-alcoholic beverage options as well. Whether it's sparkling water, tea, kombucha, or soda, give guests a few options!
5. Protect yourself against the elements
Depending on the season, you may want to have a backup rain plan. If the weather is sunny, put out a tube of sunscreen for guests, just in case. To guard against unwanted pests, try citronella candles to keep mosquitos away. We've found that a fan can also help keep bugs and flies from invading our space. Plus, it keeps guests cool and comfortable!
Make sure you have plenty of napkins handy but don't let them get blown away by the wind! I love these washable rayon towels from Open Nature made from 100% bamboo. They're actually reusable, meaning they won't fall apart the first time you use them, and you can hand wash them up to 100 times! Keeping a roll handy means you don't have to worry about the wind blowing them away, and they're a great option for messy dinners! Fun Earth Day fact: Bamboo is renewable, and grows and matures 3x faster than paper products.
If you find yourself at Safeway, be sure to grab some Open Nature compostable* entertaining supplies for your next event!
What are your outdoor entertaining tips?
*All components are made of plant-based material certified compostable in industrial composting facilities. Check locally, as these facilities may not be available in your area. No current certification for backyard composting.