What I [Worked] Wednesday
Let's jump right in!
What I've been eating:
Breakfast
Are you sick of seeing my yogurt bowls yet? You should be. I basically have one of these for breakfast every time my roommate is still sleeping, and I don't want to wake her up by the sound of my jet engine vita mix.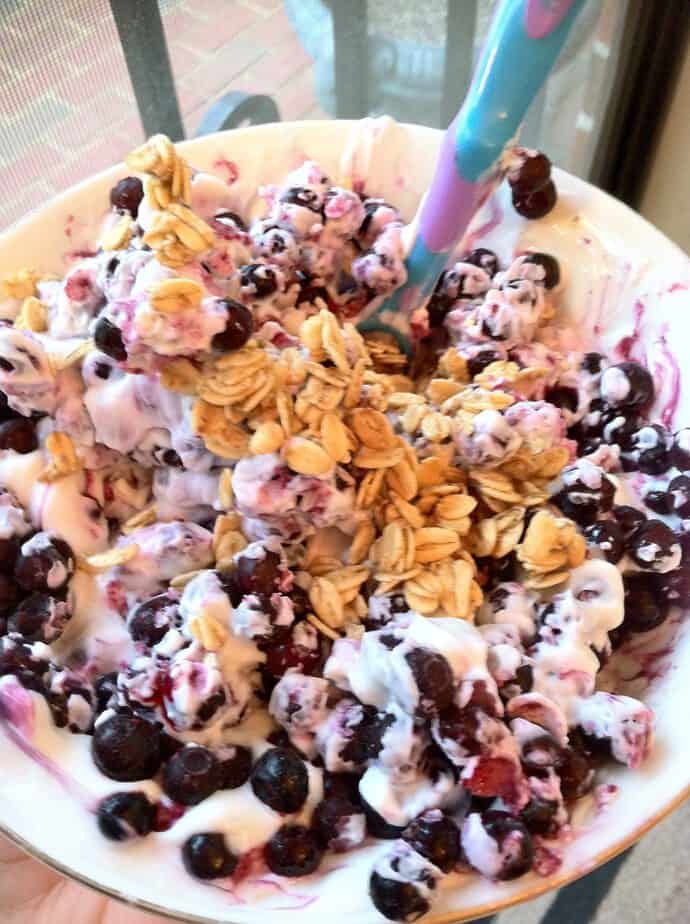 1 container of Chobani 0% plain yogurt
1 cup blueberries
1 packet of stevia
Sprinkle of Bear Naked Granola
I really need to start switching things up. But when you like what you like… why change?
Lunch
I wish it didn't look like someone poo-ed on my eggs. This was 1/2 cup egg whites, a wedge of laughing cow cheese, cooked in a skillet and topped with salsa and red pepper flakes. YUM. And super protein packed. This was consumed with a salad and many many snacks.
Dinner
Nope, nothing new here folks. I'm still obsessed with the sweet potato + almond butter combo. I also added a tiny bit of almond milk, and some cinnamon and stevia.
With food, I don't mind getting in a rut groove. I can eat the same things over and over without getting tired of them. But I don't feel that way about my workout. I get bored really easily.
I've been feeling bored with my regular workout routine, so I've been trying to mix things up. My goal is to do a different type of workout everyday.
What I've Been Working
1. Jillian Michael's Yoga DVD
(Please see my formal apology to yoga here)
I love this, because it's only 30 minutes so I have no excuse not to squeeze it in on a busy day. And it really gets me sweating.
2. Personal Training
I'm lucky enough to have access to free personal trainers at my gym, so I'm starting to take advantage of this more. (Bring it on, Jason!) I definitely work harder when someone is pushing me!
3. Exercise On Demand
If you have FiOS or Direct TV (and maybe others?) then you have a whole bunch of free workout videos on demand! I didn't realize this until a few weeks ago, but it's awesome! Some of them are just 10 minute segments, but some are full workouts! If I'm not feeling Jillian, these have been a good alternative.
4. Exercise Classes
I'm trying to get back into taking classes at the gym. They don't usually work with my schedule, but I really need to get into it! Having a room full of other people pushing themselves is so motivating for me!
5. New Machines
My trainer showed me how to use a few machines I'd never tried before (hello, shoulder press!) and I finally tackled the Stairmaster. I know that sounds stupid, but I honestly couldn't figure out how to use that dang stair stepping machine. Good news, I figured it out and sweated my buns off yesterday.
What new things have you tried lately?