A Vegetable Filled Day
After many birthday indulgences and frequent dinners out, I decided to try to reign things back in on Sunday. Luckily, our kitchen was well stocked with groceries from Relay Foods so I was ready to get some fruit & veggies back into my life.
We were actually out pretty late on Saturday (late for us is like… midnight) so we slept in until almost 8 on Sunday morning. I got up and immediately made some coffee and grabbed some yogurt. I'm still on a Greek yogurt kick.
After breakfast and a relaxing morning of reading the New York Times, I munched on an apple before heading out the door to gymnastics. I knew lunch would be late so I wanted something to power me through!
Gym Quest has an adult tumbling class on Sundays and it's always a fun time. It's half workout/half girl time.
I had a fun time bouncing around on the trampoline but I wasn't super hungry right when I got home. I drank a bunch of water and took a shower before eating lunch. I had leftovers from making Aloo Gobi on Saturday. I liked it, but I didn't love the recipe so I need to do some more tweaking before I share it!
I walked on the treadmill for a bit (I'm still loving my treadmill desk!) and then Alex and I went to church. When we got back, I made this roasted vegetable & chickpea dish that I posted about on Monday!
After dinner, Alex and I took a long walk and ended up at one of my favorite places for dessert…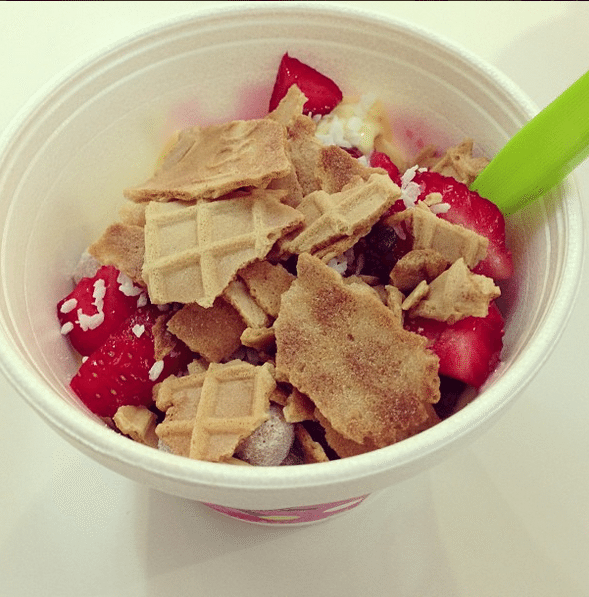 I can't resist Sweet Frog! It was a nice way to end the weekend. I'm still trying to focus on lots of fresh fruits and vegetables this week and I'm loving all of the in season produce right now! I'm excited for fall weather, but you can't beat the farmer's market selection right now!
What's your favorite kind of dessert?
I'm linking up with What I Ate Wednesday!