[Sun]day in the Life
I thought it would be fun to do a little "day in the life" type of post. I haven't done something like this but I was thinking it would be interesting to do this periodically and see how things change over time, sort of like the what I ate then vs. now post from last week. Apologies for all the iphone pictures, but obviously I didn't have my camera with me at all times!
7:00- Alarm goes off. I lay in bed for another 15 minutes or so before convincing myself that it's worth it to get out of the warm cozy bed, because the Sunday edition of the New York Times is on the porch.
7:15- Make a giant pot of coffee, read all the best sections of the newspaper (Sunday Review, Travel, and Business section) and skim the rest.
7:45- Eat a homemade breakfast sandwich while finishing up the Business section. The avocado was perfectly ripe so it was extra delicious.
9:15- Try to keep Alex distracted with the paper to avoid working on the basement. (Not really. I knew the basement needed to be done, but relaxing on the couch sounded like more fun.)
9:30- Start the second coat of paint on the basement ceiling. We primed it on Saturday, so painting was a little easier. We used a paint sprayer, so painting over pipes and wires wasn't a big deal. The painting part is easy, but the cleaning up part is hard. The best part is dancing around in our ghostbuster-looking suits. Really though, it's a good thing we had them. The last time we painted, I had quite a bit of paint in my hair. I'm not known for being careful.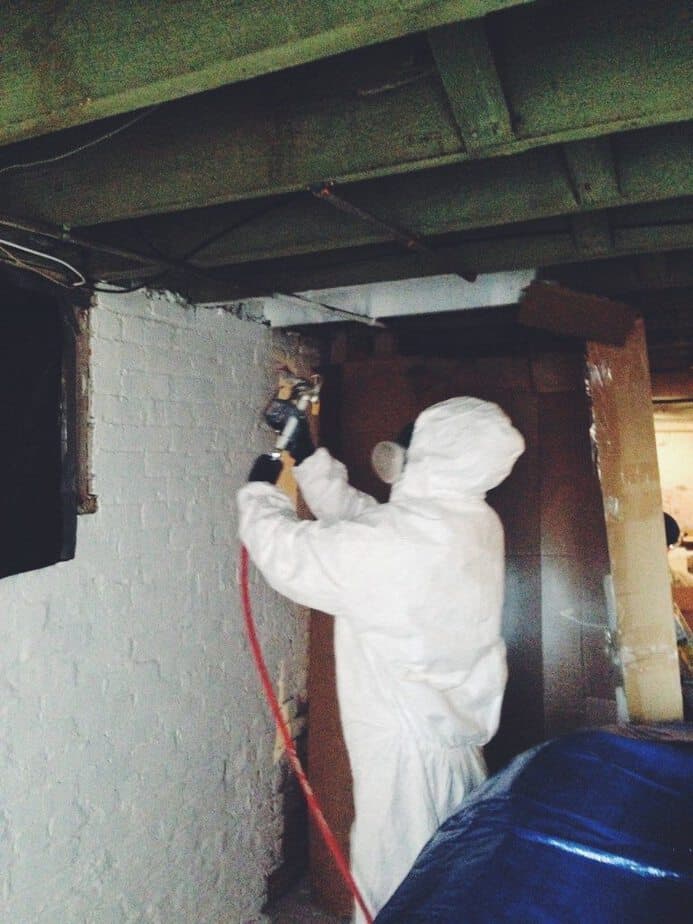 11:00- Abandon Alex in the basement after we finish the painting part and head upstairs to start cleaning up the house. That's certainly the one thing I miss about having a tiny apartment. It takes much longer to clean our house!
11:30- Decide to make sweet potato fries for lunch. Preheat the oven and start slicing.
12:00- Call Alex for lunch. I literally just eat these sweet potato fries with avocado dip. Alex also has a veggie burger.
1:00- Clean up lunch and take a shower. Blow dry hair which takes 9 million hours. Thick hair is a blessing and a curse.
1:30- Alex and I drive around looking at open houses on the Northside of town. Yes, we just bought a house, but we love looking and getting ideas. We tour two houses, and then head home.
2:45- I hop on Skype to chat with the folks at Blog Talk TV.
Oh look, that's me on the screen! I spend the afternoon chatting with the crew about blogging and the Virginia Bloggers network. (I'll let you know when the episode airs on TV!)
3:30- Run to CVS for shampoo, conditioner, toothpaste, and other random things we were running out of. Drive back home to get Alex.
4:00- Head to City Church. I love love love our church. It is a great service, as always.
5:45- Get home and Alex and I are both pretty hungry. We are low on groceries but we always have pasta in the pantry so I make macaroni and cheese. Seriously, you can't go wrong with macaroni and cheese.
Red pepper flakes for the win. I actually measure things out this time so I can share the recipe with you. (Once I take prettier pictures of it… I'll share!)
6:30- Sit down to dinner and eat while watching an episode of The Following. Such a terrifying show. I can't even decide if I like it, because it's so scary.
7:30- Hop on the computer to start writing Monday's blog post. Edit photos, finish recipe.
8:30- Read a bit more of the Plate and Pixels book I mentioned on Friday. It's so good!
9:45- Start getting ready for bed. Washing my face, brushing my teeth, all that exciting stuff.
10:15- Head to bed. I used to be such a night owl but now I like to get up early before work so I can have some quiet time and get blog stuff done. That means an early bedtime!
What time do you go to bed? Are you an early bird or a night owl?
Linking up with Jenn for What I Ate Wednesday!