Warm Kale Salad
Warm kale salad is a delicious way to eat your greens! It's a simple recipe with salty Parmesan and spicy red pepper flakes, and it's a perfect side dish for any dinner.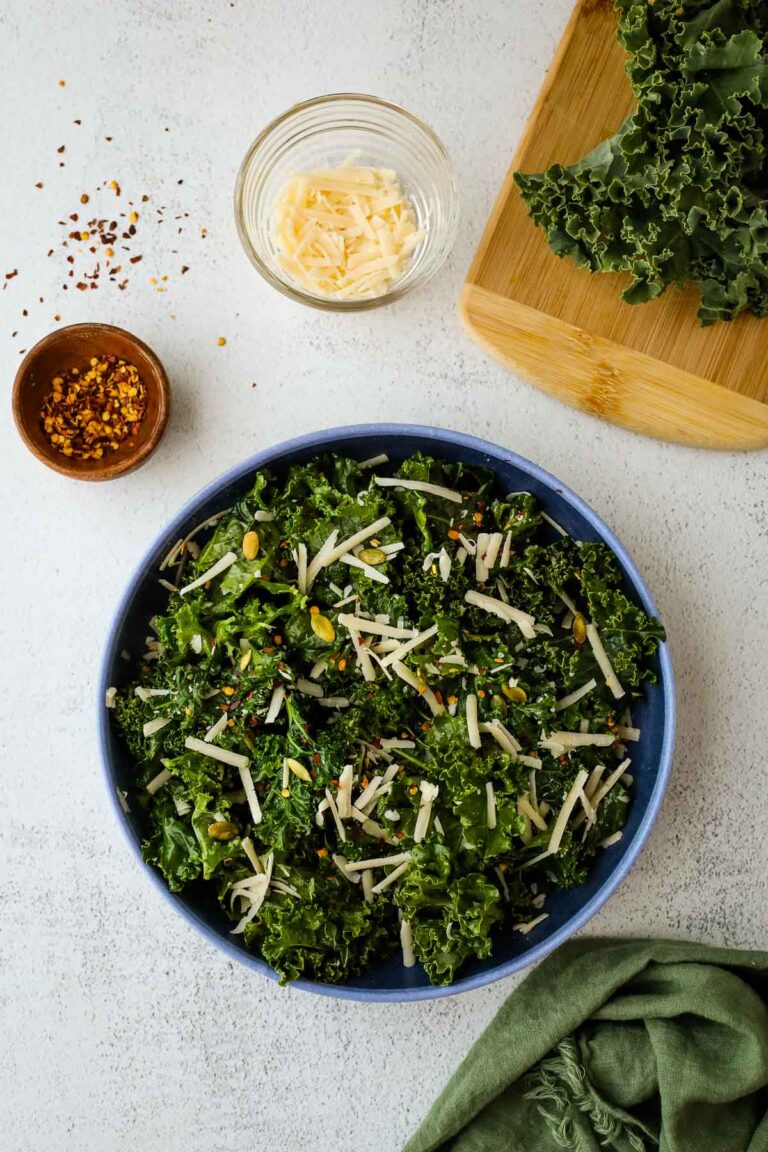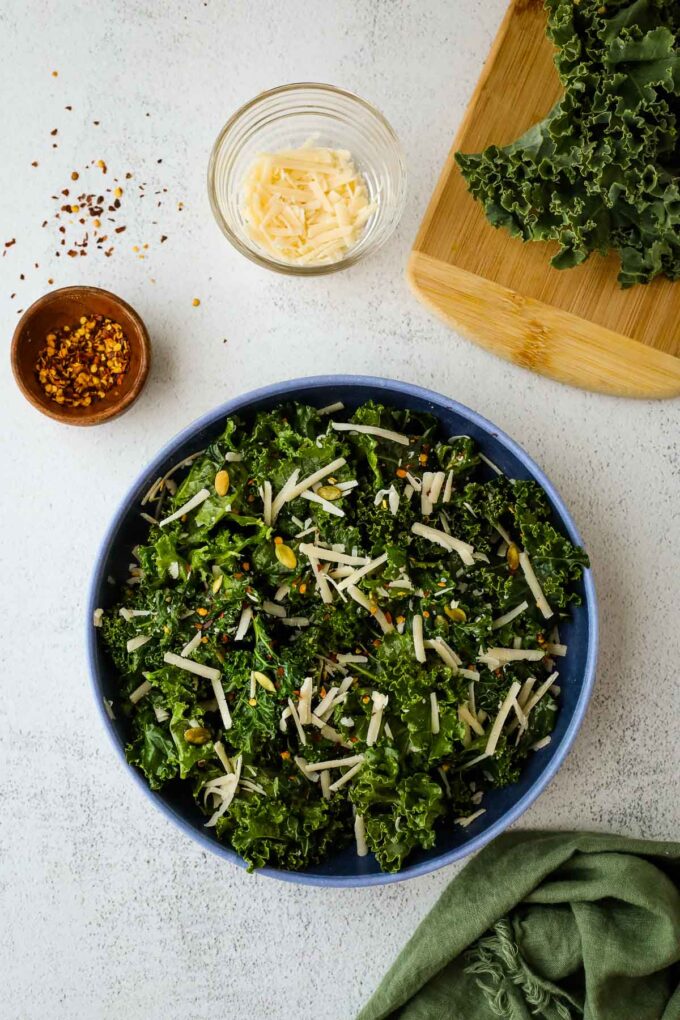 When the weather gets colder, I don't crave salads the way I do in the summer. But ever since I had my first warm kale salad, I've been hooked on these during the cooler weather. It's a great way to enjoy your greens, and I love the way that sautéing the kale makes it a bit more tender. This is a great recipe for anyone who is on the fence about kale. Cooked kale is less tough and bitter than raw kale.
Can you cook a kale salad?
The short answer is yes! This warm kale salad is really just a combination of sauté greens and a few of my favorite salad toppings! But the great thing about cooking kale is that the leaves become soft and tender. I love this salad served warm, but you can also eat it cold. Even if you eat it straight from the fridge, you'll still get to enjoy soft, tender greens.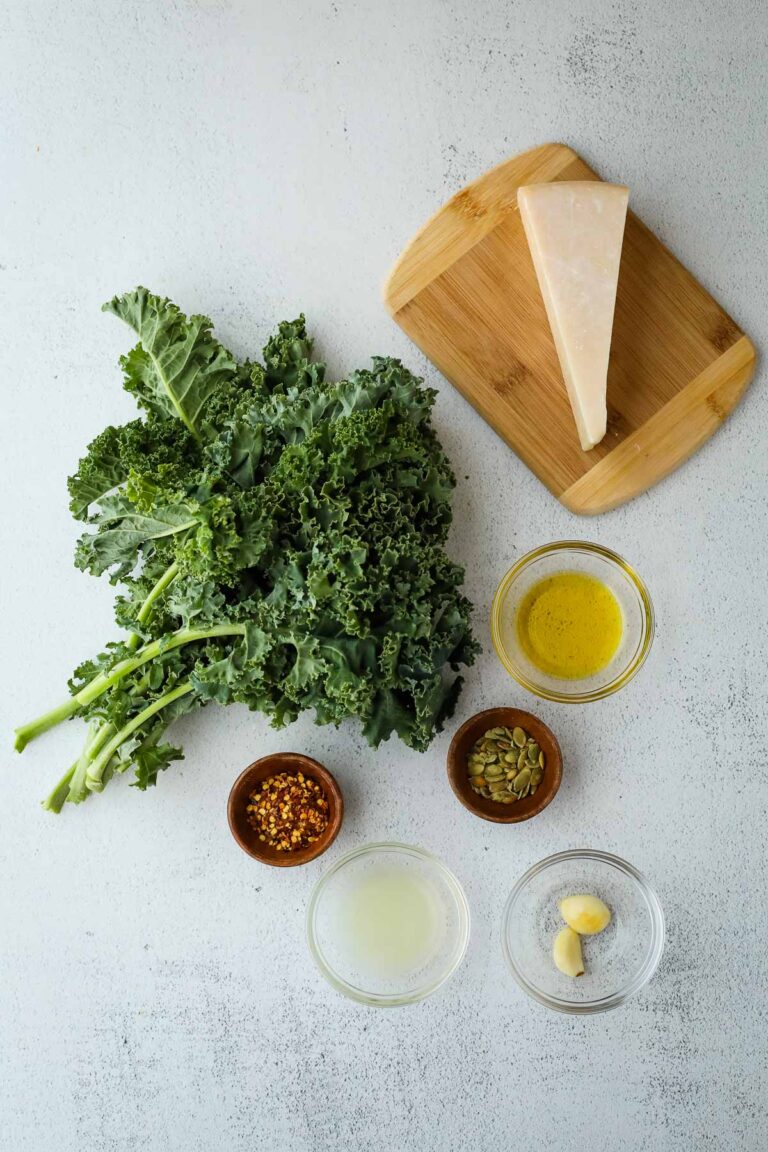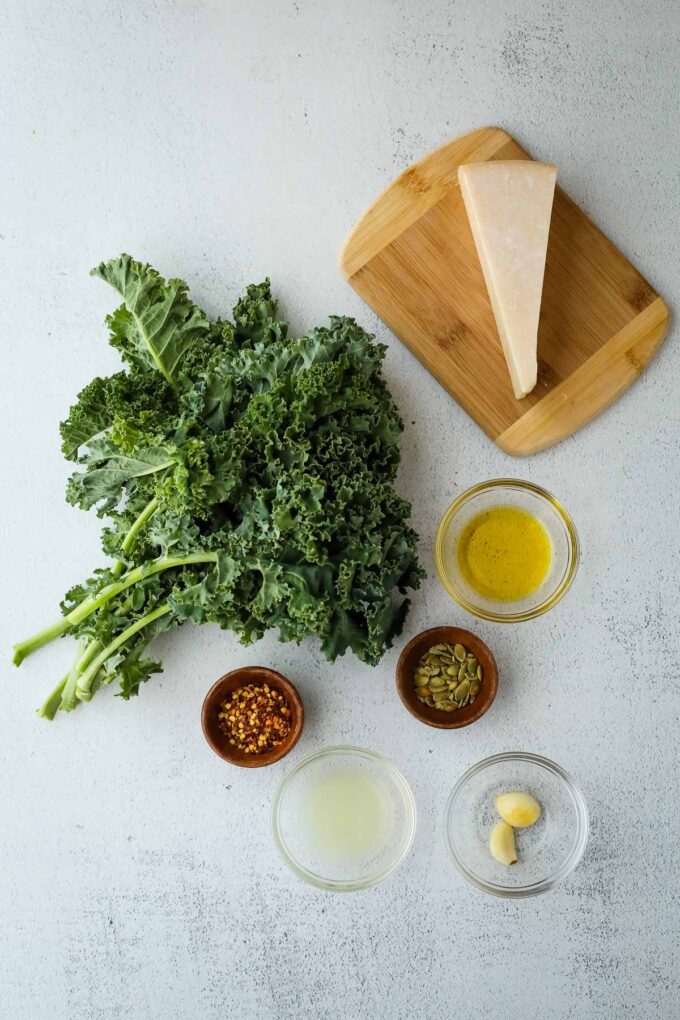 Ingredients
Kale– I used curly kale but you can use lacinato kale, sometimes called dinosaur kale or Tuscan kale.
Olive oil- A little olive oil is essential for sautéing the garlic and kale and it also creates a light dressing.
Garlic– This adds a lot of flavor to the dressing. I don't recommend substituting with garlic powder.
Lemon juice- The acidity of the lemon juice balances the flavors of the dressing.
Red pepper flakes– I love the heat from crushed red pepper flakes. If you don't like things spicy, you can skip them.
Parmesan– Salty Parmesan is essential in this recipe. Buy a block of real Parmesan and shred it at home. It has so much more flavor than pre-shredded cheese. You can substitute Pecorino Romano in place of Parmesan.
Pumpkin seeds– I used pumpkin seeds, but I've also made this recipe with sunflower seeds or pine nuts. Any salty roasted nut works great in this recipe.
How to Make Warm Kale Salad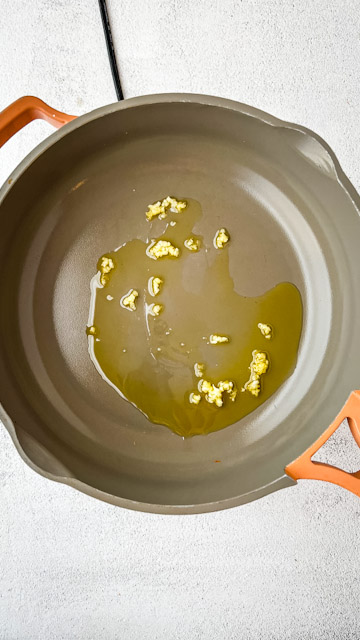 Tips for the Perfect Warm Kale Salad
Kale is a tough green and it needs massaging to make it tender. After you've washed your kale, you want to massage it with your hands. Since this kale salad is served warm, it's not as critical, but it will still produce a better texture if you massage the kale before cooking.
Use the right dressing. Kale is a very bitter green, and it needs something to help soften it a bit. An acidic dressing will help break down the fiber in the kale which will make it easier to chew. That's why we use lemon juice in this dressing.
Remove the kale stems. The stems are extremely bitter and very hard to chew. Do yourself a favor and de-stem the kale. You can either fold the leaves in half and slice the stem off or you can just tear the leaves right off the stems.
Print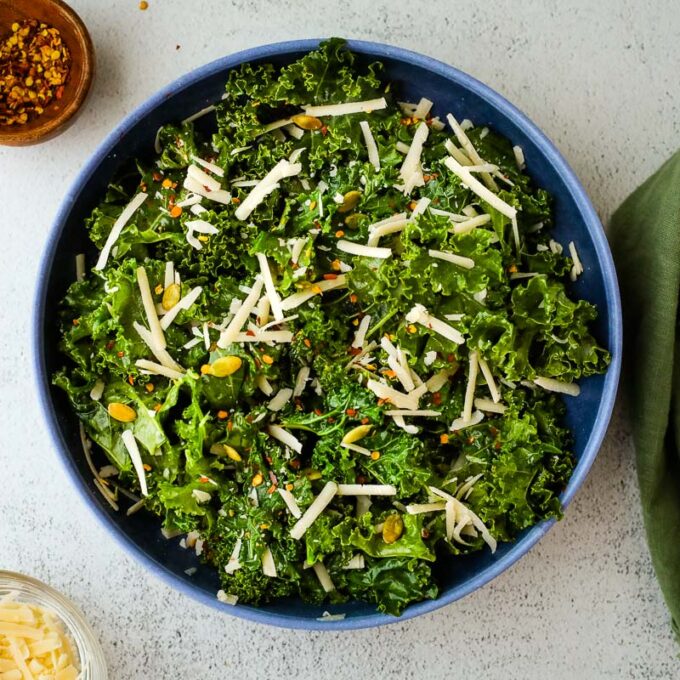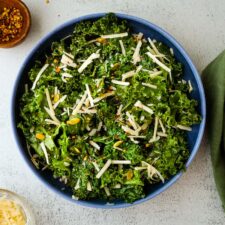 Warm Kale Salad
Author:
Prep Time: 5 mins
Cook Time: 5 mins
Total Time: 10 mins
Yield: 4 cups 1x
Category: Salad
Method: Stovetop
Cuisine: Salad
Diet: Vegetarian
---
Description
Warm kale salad is a delicious way to eat your greens! It's a simple recipe with salty Parmesan and spicy red pepper flakes, and it's a perfect side dish for any dinner.
---
1 tablespoon olive oil
2 cloves minced garlic
1 bunch curly kale, torn into pieces, stems removed (about 4 cups)
1 tablespoon lemon juice
2 oz shredded Parmesan or Pecorino Romano cheese (about 1/2 cup)
2 tablespoons pepitas or sunflower seeds
Pinch of red pepper flakes
Salt to taste
---
Instructions
In a large skillet, heat the olive oil over medium heat for 30 seconds.
Add the garlic and sauté for 2 minutes.
Add the kale and continue to sauté over medium heat for 3-4 minutes until it softens. The kale should be bright green and tender.
Transfer the kale to a bowl and toss with lemon juice, shredded cheese, pepitas, and red pepper flakes.
Add salt to taste. Serve warm.
Notes
This post was originally published in Feb 2014. Updated Nov 2022.
Keywords: warm kale salad
Sometimes I add a few crushed red pepper flakes for a spicy flavor! It's so simple but so delicious! I love serving this with my spaghetti squash lasagna, but you could also add your favorite protein on top and make it a meal! Looking for some other kale salad inspiration? Try this kale and quinoa salad!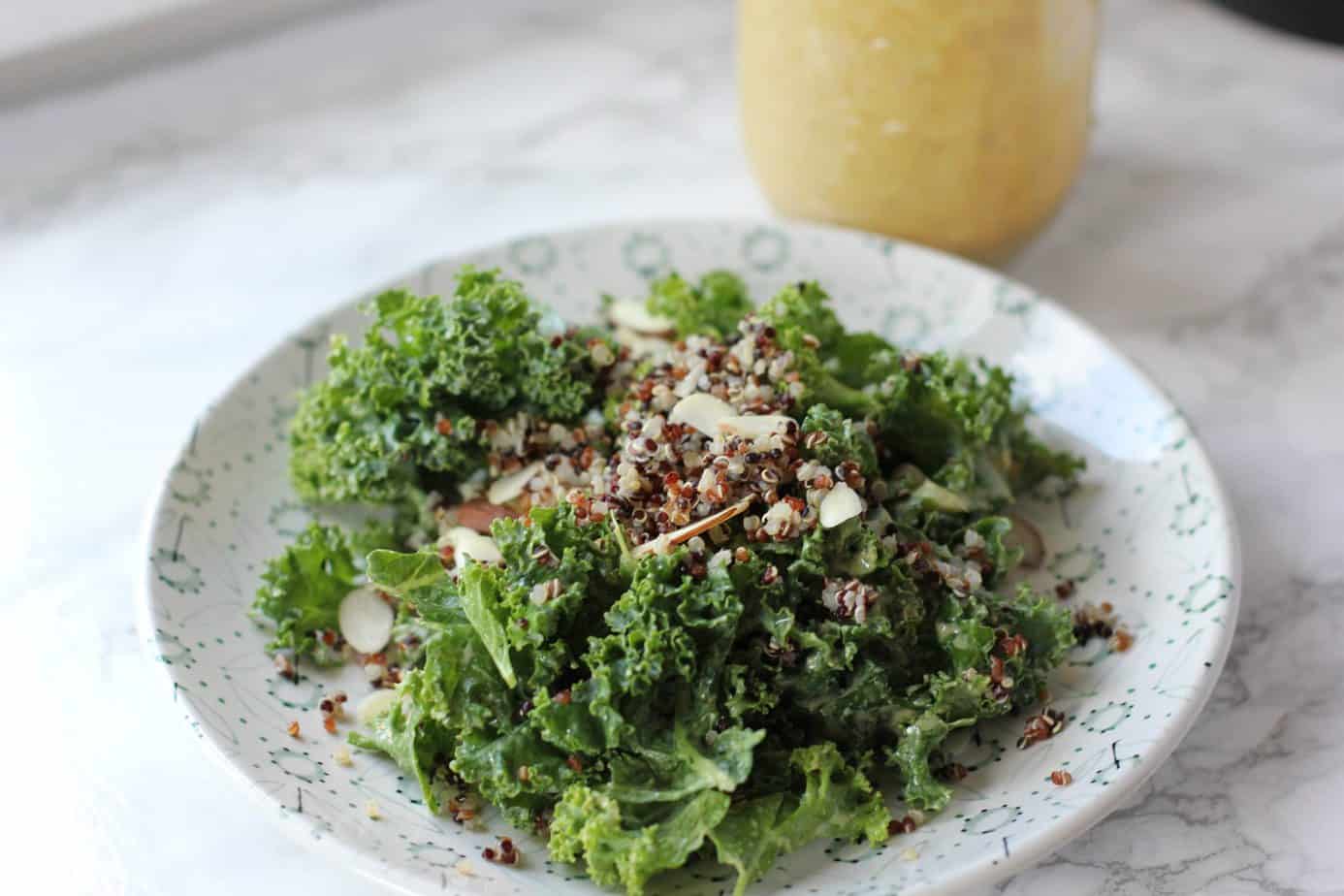 Have you ever tried a warm kale salad?