This 6-ingredient beer bread recipe is so easy to make and it tastes amazing! You can have fresh bread in no time. 
So we still don't have a bathroom. This week's home improvement project has taken a little longer than we expected, due to some unforeseen events. (We didn't anticipate having to completely re-do the subfloor.) But Alex and my dad have been hard at work figuring out how to tackle it. Yesterday, for Thanksgiving, we took a day off. For whatever reason, I was craving some warm comfort food but I didn't want to make anything complicated. I remembered this beer bread recipe that I made a few Christmases ago and decided to throw it together again. It was even better than I remembered!
Vegan Beer Bread
Ingredients
3 cups all-purpose flour
3 teaspoons baking powder
2 teaspoons salt
¼ cup sugar
12oz beer (I used Stella Artois)
2 tbsp earth balance margarine (or butter if you're not vegan)
Instructions
Preheat the oven to 375.
Mix your flour, baking powder, salt and sugar together, and then pour in the can of beer. Stir until just combined but do not over mix.
There will be lumps of flour and that's ok! Do not use an electric mixer. Just a plain old spoon will do.
Lightly spray a loaf pan with non-stick spray, and pour in the batter. It will be lumpy and thick!
Cut the margarine/butter on top of the batter, and bake for 45-55 minutes.
The top will brown just a bit.
Let cool, slice, and enjoy!
I may or may not have eaten half a loaf yesterday. Oops. What can I say, there's nothing better than bread fresh from the oven!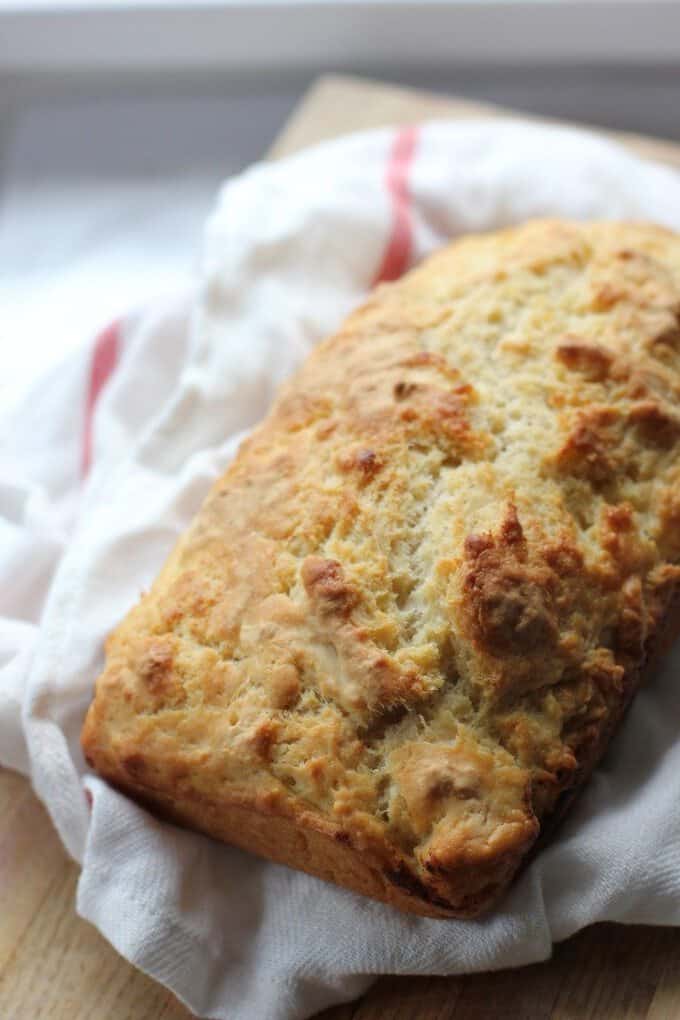 Ok, time to get back to tiling! Wish us luck!
How are you spending the weekend?