Today was filled with a lot of new-to-me foods, including the Planter's peanut butter I had with my protein shake, the VitaTop I packed as a snack, and the turnips I turned into dinner. I wouldn't say I loved all of them… but I do like trying new things! So let's recap.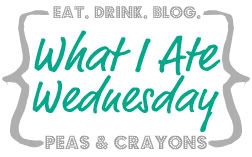 Breakfast
I had a standard chocolate and peanut butter shake, with a side of this peaunt butter. The verdit? As many of you said on instagram, it's too banana flavored. And the banana flavor tastes artificial. In my opinion. But I heard good things about the other Planter's flavors, so I'll have to give them a try.
Lunch & Snacks
I'm trying to start packing my lunch again, and I love packing lots of snacks to much on throughout the day. So spread out across the morning, lunch, and afternoon, I had an apple, a carrot cake vitatop (full review to come soon!) Chobani, blueberries, carrots, and a TLC Kashi Bar.I really liked the new VitaTop flavor! I also ended up getting a small salad from the salad bar at work. That probably sounds like a lot of food… but I'm a hungry girl 😉
Dinner
I had a lot of veggies I needed to use up, including some arugula, as well as some turnips and potatoes that arrived in my Relay Foods bounty basket. I'll post a full review of my first bounty basket on Friday, so stay tuned! I'd never cooked turnips before, so I thought I'd ease into them by testing out this recipe I found.
I made a few substitutions and additions and mashing the potatoes and turnips seemed easier than grating them. So this is what I ended up doing:
Turnip & Potato Cakes
2 cups russet potatoes (about 2 medium)
1 & 1/2 cups turnips (about 1 large)
1/4 cup sharp cheddar cheese
1 teaspoon coarse salt
1/4 tsp crushed red pepper
1/4 teaspoon black pepper
1/4 tsp dried minced onion
Wash, peel, and dice your potatoes and turnips. Bring a pot of water to a boil and add in the potatoes and turnips. Boil for about 15 minutes until soft. Drain and mash, adding in the cheese, salt, red pepper, black pepper, and onion. Heat a skillet and spray with a little olive oil or non stick spray. Scoop your potato/turnip mash with a 1/4 cup scoop and drop on the skillet. Cook until browned on both sides.
We ate ours plain, but I think next time I'd try serving them with something… or maybe with some sour cream or plain greek yogurt? It was pretty good, but I'm not sure it made sense as a main dish. What do you think? Overall, I think it's a good way to use up turnips, but I don't think I'd make this again without some substitutions. (How's that for a ringing endorsement?)
I still have more turnips in my bounty box, so I'm looking for more ideas of what to do with them!
How do you cook turnips?