These cookies happened because I have no self control around trail mix. You think I'm kidding, but I'm not. I don't know how that bag of trail mix started disappearing so quickly. I swear it was just a handful here and a handful there. Trader Joe's, you sure know how to make an addictively simple mix of almonds, cashews, and chocolate.
I knew something had to be done.
And then a friend called, because she was having a very bad day. And very bad days should be met with chocolate. That's just a fact of life. And with that, these double chocolate cookies were born.
I had made a similar recipe back in my vegan days, without the trail mix, and using a flax egg. So if you do want to veganize these, you can. Just use a flax egg. I swear, it works. If you don't know what a flax egg is, let me know, and I'll do a whole post on it.
But let's get back to these chocolate cookies.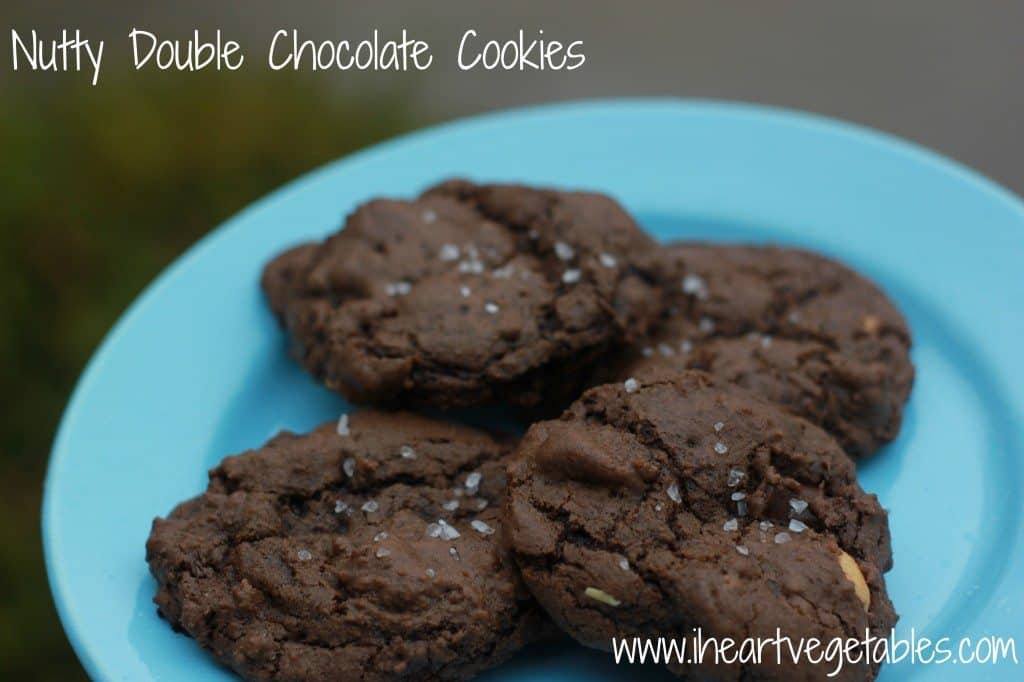 Nutty Double Chocolate Chip Cookies
Print
Nutty Double Chocolate Cookies
Author:

Prep Time:

10 mins

Cook Time:

9 mins

Total Time:

19 mins

Yield:

12

1

x
---
Scale
Ingredients
3/4 cup

canola oil

2 cup

s sugar

2 teaspoon

s vanilla

1

egg

1/2 cup

almond milk

2 cup

s all purpose flour

3/4 cup

cocoa powder

1 teaspoon

baking soda

1/2 teaspoon

salt (plus sea salt for sprinkling)

1 cup

Trader Joe's almond/cashew/chocolate
OR

1/3 cup

almonds, 1/3 cup cashews, 1/3 cup chocolate chips
---
Instructions
Preheat oven to 350 F.
In a large bowl sift together flour, cocoa, baking soda and salt.
In a separate large bowl cream together oil, egg and sugar.
Add the almond milk and vanilla, mix well.
Fold in the dry ingredients in batches. When it starts to get too stiff to mix with a spatula, use your hands until a nice stiff dough forms.
Add the chocolate chips and nuts and mix with your hands again.
This will feel sort of like a cross between cookie dough and brownie batter.
Roll dough into 1 inch balls and sprinkle with sea salt, if you're feeling fancy. You don't have to, but it does bring out the sweetness of the chocolate.
Place on a greased cookie sheet about an inch apart. (Spray it with olive oil or non stick spray!! Otherwise they will stick!)
Bake for 9 minutes.
Remove from oven and let cool for about 5 minutes, then set them on a wire rack to cool completely.
---
These are pretty simple to make, as long as you grease your pan. I learned that one the hard way on the first batch. Learn from my mistakes, friends.
Then box them up and give them to your friends, so you don't run the risk of eating the whole tray. That's what I did.
And with that, I'm packing my bags and heading back to Ohio to see some friends and family. Stay tuned for some travel snacks, because I've packed some good ones!
Are you a trail mix addict?