I love food all the time but I especially love breakfast. I've been a breakfast eater as long as I can remember and I don't understand how people can wait until lunch to eat. It literally boggles my mind. Since I love breakfast so much, I thought I'd share a whole bunch of healthy vegetarian breakfast recipes for you to try! All of these are easy, since I know we're all busy in the morning but now you have no excuse!
Is there ever a bad time for tacos? The answer is no. These 10 minute breakfast tacos from Watch Learn Eat are loaded with protein thanks to beans and eggs but they're ready in a snap!
Donuts don't sound like the healthiest breakfast ever, but these mini protein donuts are a surprisingly easy and healthy breakfast! (No donut pan? No problem! You can make them in a mini muffin tin!)
If you're a sweet-tooth-breakfast person, you can still keep it healthy with this chocolate almond butter oatmeal from That Girl Cooks Healthy.
Sometimes breakfast time gets crazy and all you really want is a grab and go option. These protein cookies are so simple (just 4 ingredients!) and you can make them ahead of time for easy mornings.
Quinoa might be the most versatile ingredient this ever. This seed-that-tastes-like-a-grain is delicious in a sweet quinoa breakfast bowl from Mommyhood's Diary.
Not to play favorites, but if I had to name my favorite breakfast sandwich ever, it would be this one. You can even it make it with one of those "bagel slims" if you want to save on carbs. The hummus and avocado make this so tasty!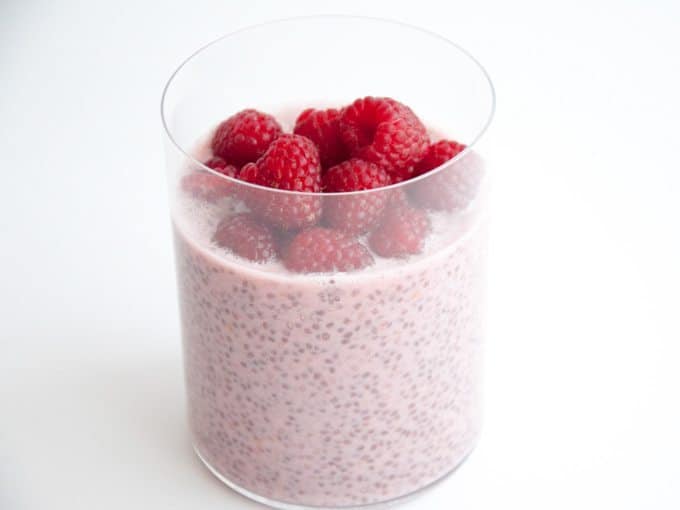 Ch-ch-chia! Chia seeds are the key to this raspberry pudding from Elephantastic Vegan! You can make it the night before and then breakfast is ready in the morning!
These banana pancakes from Lauren Cari Cooks actually taste like pancakes. I know that sounds crazy but if you've ever tried a "healthy banana pancake" recipe then you know what I'm talking about.
I love when my breakfast tastes like dessert, so I'm a huge fan of this banana split breakfast bowl from Athletic Avocado Don't worry, it's still healthy!
If you're looking for something in the low carb space, try this kale & egg bake from Fit Mitten Kitchen. Doesn't it look amazing?
Don't forget to pin this so you can find these healthy vegetarian breakfast recipes later!
What are your favorite breakfast recipes?