Fresh Favorites: Kid Essentials, Healthy Snacks, & At Home Activities
Hi friends! It's been a while since I've done one of these posts, so I thought I'd give you a little life update and share what I'm loving lately. In case you missed it, we had two foster children move in with us at the beginning of March. (Yes, it was an interesting time to become a family of four!) We have a 9-year-old boy and a 9-month-old baby girl living with us right now, and they're wonderful kids! Despite some of the curve balls that 2020 has thrown, we've had a lot of fun moments along the way! I thought I'd share some of the activities, products, and snacks that have been helpful during this odd season!
Kid Essentials
Pokemon Go– This app has basically saved us. Our 9-year-old foster son loves it, and it's easy to put his baby sister in the stroller and get them both out of the house for a while. Plus, we all get a little exercise!
Joolz Hub Stroller– Joolz sent me one of their strollers, and I am obsessed. (This isn't sponsored, but they did gift me the stroller!) Our city sidewalks can be rough, so it's been wonderful having a stroller that can navigate bumpy sidewalks. It folds up for easy storage, and this heavy-duty stroller is surprisingly light. It makes the Pokemon Go walks even more enjoyable!
Waterproof Picnic Blanket– Since we're spending a lot of time outside, this waterproof picnic blanket was a must. It's huge, so we can all comfortably fit, and it easily wipes clean. It folds up and has a handle, so it's easy to transport. It would also be perfect for the beach!
House of Noa Playmat– When we finished our basement, we bought one of these playmats so the baby could have a big open area to crawl and play. I love that these mats look more like stylish rugs, and the puzzle piece design makes it easy to fit any space. We ordered a 6×8 may in "boho dream," and I love it. Now I'm eyeing their kitchen mats!
Healthy Snacks
Spending more time at home has been giving me lots of opportunities for new snack obsessions. I shared a whole list of healthy snacks you can order online if you need some ideas!
Quinn Popcorn– Our overall favorite has been Quinn popcorn. Alex and I are both obsessed, and we've been enjoying a bowl of this nearly every night. It's a little hard to find it stores, but I've been ordering it on Amazon. Get the movie box, which gives you a variety of flavors to try!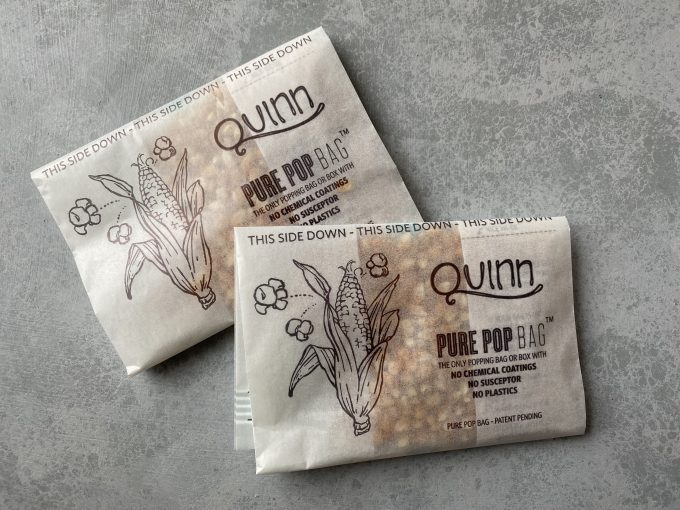 Skinny Dipped Almonds– If you want to satisfy your sweet tooth but keep sugar at bay, these Skinny Dipped Almonds are perfect. The crunchy almonds are dipped in a thin layer of chocolate, so you get the satisfying sweetness without going overboard. My favorites are dark chocolate cocoa and dark chocolate peanut butter.
Homemade Desserts- I love spending time in the kitchen, and I've had fun making some healthy dessert recipes! These cheesecake stuffed strawberries were a hit, and I've made quite a few batches of these quinoa flour cookies. Now that we have a dessert-loving kid in the house, I like being able to make healthier desserts with a little less sugar!
At-Home Activities
Overcooked 2– I'm not much of a video gamer, but I am hooked on this Nintendo Switch game. It's a fun one to play with your partner because it's a collaborative game, so you're working together to win. This is one of our go-to date night activities!
Ticket to Ride– This is one of our all-time favorite board games! Alex and I can play it just the two of us, but it's easy enough for the 9-year-old to play, too. It's a good mix of strategy and luck, and it typically takes between 30-45 minutes to play.
Common House Virtual Events– Listen up Richmond friends! Common House, a local social club, is opening their doors in October, but they have tons of virtual programming to get us through the summer! I can't wait to see people in person, but for now, it's been a fun way to stay connected to others in Richmond. I love the variety of virtual activities they're offering!
At-Home Workouts
Tone It Up App– I've stayed pretty consistent with my at-home workouts, and the Tone It Up app has been a big part of that! They've had a couple of different challenges during this strange time, and it's helped me stay motivated. I like that most of the workouts are less than 30 minutes, so I can squeeze a video in before the kids wake up.
FitOn– I still can't believe this workout app is free! When I'm not in the middle of a Tone It Up challenge, I love checking out new workouts on FitOn! They have everything from HIIT workouts to Pilates. There's something for everyone, and it's FREE.
Virtual Yoga– My friend Annie has been teaching virtual yoga classes, and I'm obsessed! Even though she's in my hometown of Columbus, I love being able to tune into her yoga class from Virginia! She's doing a bunch of donation-based classes so you can join in online and support great causes! It's a great way to get moving during lunchtime!
I want to know what you're loving these days! Leave me a comment below with something that has been helping you get through this crazy time!