As I mentioned, I'm still trying to follow the Tone It Up meal plan, more or less, which basically means lots of protein and vegetables, and less starchy carbs and nighttime snacking. It sounds simple, because it is, and it's actually working pretty well for me. My clothes are fitting well, and I'm feeling energized!
Now let's just hope I can keep up this meal plan 😉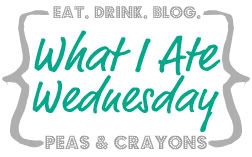 Breakfast
I'm usually in the mood for a simple smoothie, but I switched up my usual recipe, so there is a little more protein, and a little less calories. Not that I was trying to drastically cut calories from my breakfast, but it gives me an excuse for a morning snack, so it works.
The PB2 makes it taste 10X better than just plain protein powder, without the need to add in nut butter. I'm not saying you shouldn't add fats or nut butters to your shake. I think that's totally delicious. But in the spirit of trying to get my peanut butter addition under control… this is what's working for me. (Let's not talk about the spoon-in-the-jar incident from Monday night…)
My morning snack has just been an apple and some tea. Nothing exciting.
Lunch
Making things like this chickpea salad has been an easy way to pack my lunch. I just throw some in a container, and toss it in my work bag. I love that I don't have to heat it up or anything. I've been eating it with lots of veggies and salad.
Afternoon snack
These have been a protein bar of some sort. I think I'll do a whole post on my favorite protein bars. I've been trying lots of new ones, and I'm loving Think Thin and the Kashi Go Lean bars. An afternoon snack with protein has definitely helped me snack less when I get home from work.
Dinner
I think I've hit up the Ellwood Thompson's hot bar more in the last month than I did all of last year. I'm addicted to this raw kale salad, with sundried tomatoes and pine nuts. It's so delicious!
The hot bar always has so many delicious vegetarian options. I love the wheat berry salad so much, I recreated it here.
I'm still trying not to snack a lot after dinner. I find that I'm not actually hungry (just bored) so keeping myself busy is a good way to prevent mindless snacking. Being more aware of what I'm eating has helped me determine when I'm truly hungry, and sipping on tea, or hanging out with friends is a perfect distraction!
What are you eating?