Ravioli Lasagna Recipe
This ravioli lasagna recipe is a tasty dinner that comes together easily! With just three ingredients, you can get this family-friendly meal in the oven in less than 10 minutes!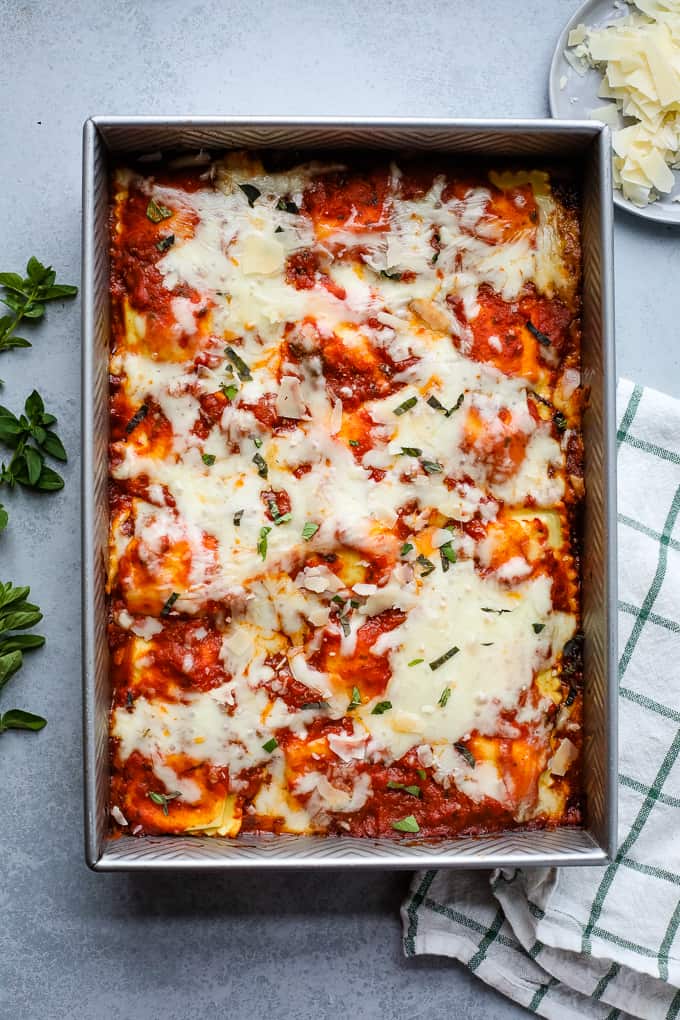 I almost didn't post this recipe because it barely counts as a recipe. But I figured I'm probably not the only one who enjoys a delicious yet so-easy-your-kids-could-make-this kind of recipe, right? If you're looking for an easy, one-pan meal, this meal is the answer.
Ravioli "lasagna" isn't really a true lasagna recipe. Instead, we use ravioli as an easy shortcut to layers of pasta and cheese! This is sometimes called "lazy lasagna," but it's really a simple baked ravioli recipe. It's so quick and easy, and I know you'll love this weeknight dinner!
Ingredients and Variations
Ravioli– I typically use cheese ravioli, but you could use meat ravioli if you didn't want to keep this vegetarian. I've even used lobster ravioli when making this dish for friends.
Sauce– I like to use a flavorful marinara sauce like Rao's Tomato Basil or Barilla's Vero Gusto Tomato Basil sauce.
Mozzarella cheese– You can use shredded mozzarella or fresh mozzarella, but shredded is a little easier to spread evenly.
How to Make Ravioli Lasagna
Spray a baking pan with non-stick spray, then cover the bottom with pasta sauce. This helps prevent the bottom layer of ravioli from drying out or sticking to the bottom of the pan. Arrange the frozen ravioli in a single layer.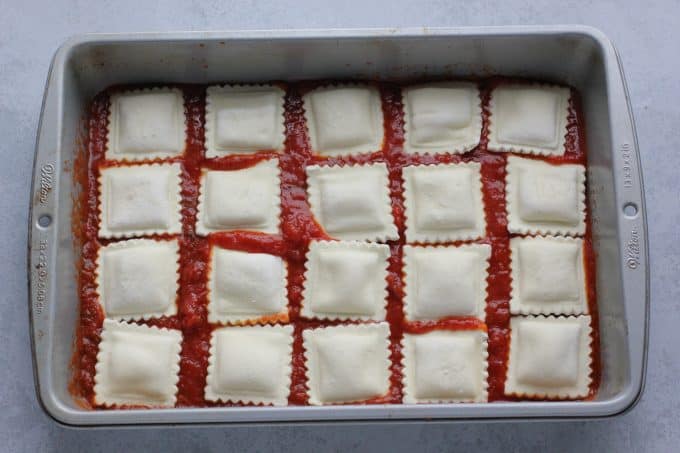 Top with shredded mozzarella cheese, then repeat. Add a second layer of sauce, ravioli, and mozzarella cheese.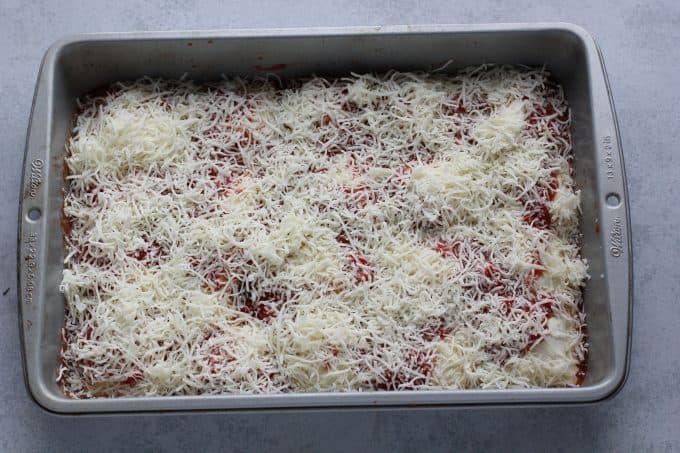 Then cover the baking dish with foil and bake for 40 minutes, covered. Remove the foil and continue to bake for 10-15 minutes until the cheese is bubbly. If you like your mozzarella to get a little browned on top, turn the oven to broil and broil for 2-3 minutes until the cheese is melted, bubbly, and browned. Keep a close eye on it, as the cheese can burn quickly if you're not careful!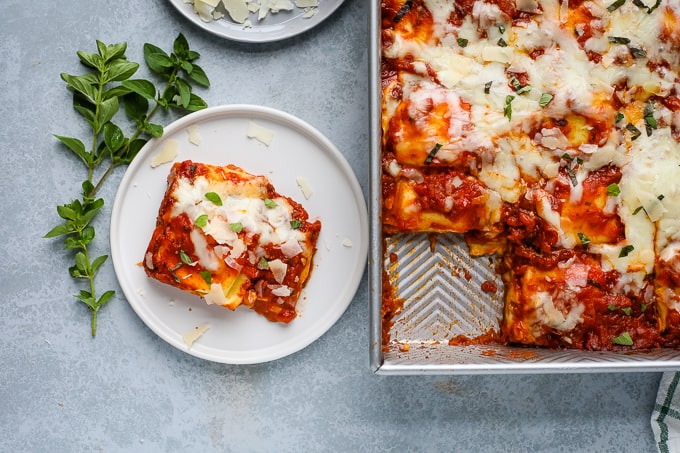 Frequently Asked Questions
Can you use frozen ravioli to make lasagna? Yes! You don't need to thaw or cook the ravioli before baking. I like using cheese ravioli, but you can use any kind you prefer. This can be made with meat ravioli or even a vegetable ravioli like butternut squash stuffed ravioli. Just be sure it's a flavor that you'll enjoy with tomato sauce.
Can you use fresh ravioli to make lasagna? Yes, but you'll need to reduce the baking time of this recipe. Fresh ravioli cooks faster. Cover it and bake for 15 minutes, then remove the foil and bake for 10-15 minutes uncovered until the cheese is bubbly.
What's the best ravioli for lasagna? I usually buy the Kroger brand cheese ravioli, but any frozen ravioli will work. While I like vegetarian ravioli lasagna, I've made it with Lobster ravioli for Alex, and I've done it with spinach ravioli to add in extra veggies. You can also do this with vegan ravioli, but you'll also want to substitute the cheese for vegan cheese if you want to keep this dairy-free.
Can I make this in advance? Yes! You can prepare the lasagna and store it in the fridge for up to 2 days before baking. But this recipe only takes a few minutes to assemble, so I typically prepare it right before serving. Because the ravioli will thaw in the fridge, you may need to reduce the cooking time.
Gluten-Free Substitutions
If you want to make this recipe gluten-free, just use gluten-free ravioli. Udi's makes a gluten-free frozen ravioli that is available at Walmart and Target. You may need to adjust the baking time, slightly.
Vegan Substitutions
If you wanted to try to make this vegan, I'd recommend using Kite Hill's vegan ravioli, which makes a pretty good vegan ricotta! You can substitute your favorite vegan shredded mozzarella for the cheese. But keep in mind this is a cheese heavy recipe.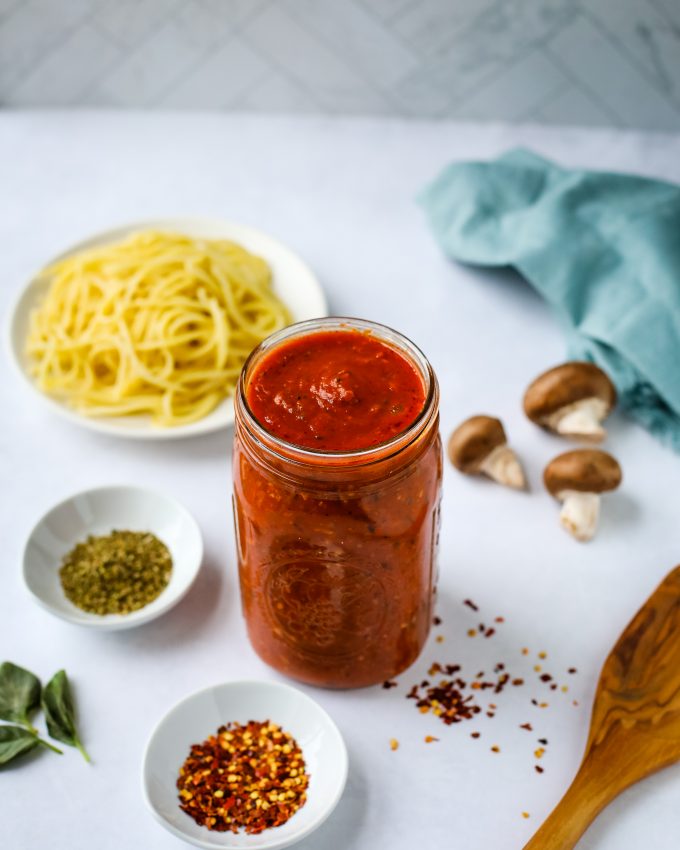 The Best Pasta Sauce
Since this recipe is made with just a few ingredients, it's really important to use high-quality products. If you want to take things up a notch, try making my meatless spaghetti sauce recipe! The quality of your sauce will have a big impact on the flavor of your dish! If your sauce is a little bland, try adding 1 teaspoon of Italian seasoning to the sauce before adding it to the recipe.
How to Reheat Leftovers
This dish reheats well, so don't worry if you have leftovers! Store any leftovers in the refrigerator in an airtight container. To reheat, remove each portion onto a microwave-safe dish and reheat for on 50% power for 2-3 minutes or until heated through. I do not recommend freezing this recipe.
More Pasta Recipes
Print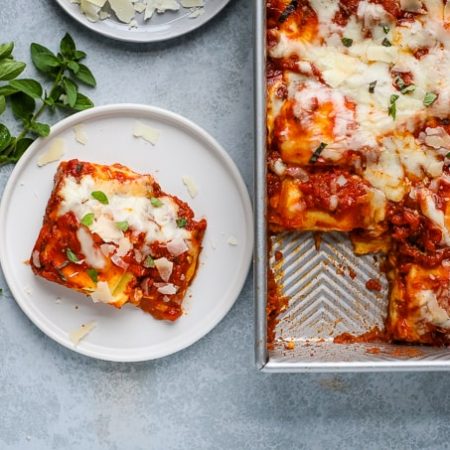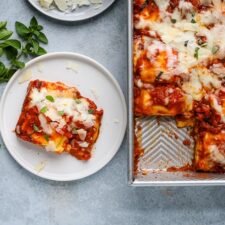 Ravioli Lasagna
Author:
Prep Time: 10 mins
Cook Time: 50 mins
Total Time: 1 hour 10 mins
Yield: 6 1x
Category: Dinner
Method: Baked
Cuisine: Italian
---
Description
This ravioli lasagna is a tasty dinner that comes together quickly! With just three ingredients, you can get this kid-friendly meal in the oven in less than 10 minutes!
---
24 oz pasta sauce
1 1/2 lbs frozen ravioli (any variety)
2 cups mozzarella cheese
Optional: Parmesan cheese, basil for topping
---
Instructions
Preheat the oven to 350 degrees.
Spray a 13×9 inch pan with non stick spray.
Add 1/2 cup of pasta sauce to the bottom of the pan. Tap the pan on the sides to distribute evenly across the bottom.
Arrange the ravioli in a single layer over the sauce.
Top with 1 cup of mozzarella cheese.
Add a little more sauce on top of the cheese. Layer again with ravioli, sauce, and the remaining cheese.
Cover with aluminum foil and bake for 30 minutes.
Remove the foil and continue to bake for 10-15 minutes until cheese is bubbly.
Remove from the oven and top with parmesan cheese or basil, if desired.
Let sit for a few minutes before serving.
---
Keywords: Ravioli Lasagna
Side Dish Ideas
Need a side dish to serve with this dish? This easy Italian Chopped Salad! With salty feta and spicy pepperoncini, this is a delicious way to enjoy your vegetables! Or check out my list of the best side dishes to serve with pasta!