Creamy Veggies and Noodles
This vegetarian dish is made with creamy egg noodles and plenty of veggies for a rich and delicious comfort food. It's perfect for an easy weeknight meal!
I wasn't exactly sure what to call this recipe. It's sort of like the inside of a pot pie but with egg noodles as the base rather than a pastry crust. It's also a bit like a creamy vegetable chowder. Or maybe it's a chicken-less chicken and noodles style dish? I really don't know what to call it but what I do know is that this recipe is delicious.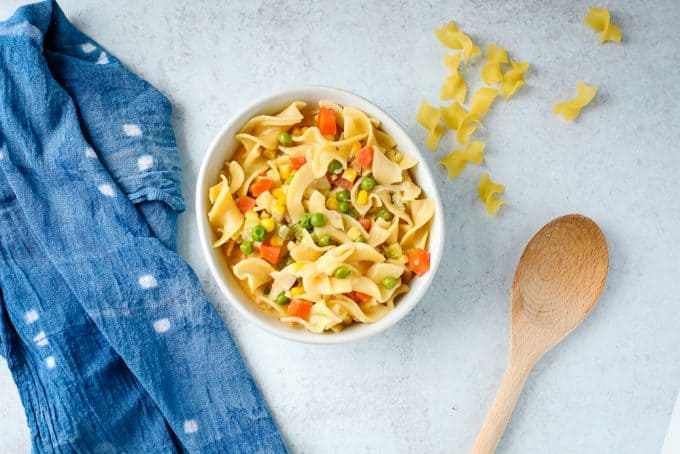 These creamy veggies and noodles are a delicious comfort food. I love how the winter season is an excuse to make endless batches of soups and stews like this one. The egg noodles are coated in a rich and creamy sauce but the veggies help balance it out. It's a great way to use up some of those canned vegetables that have been sitting in your pantry for months.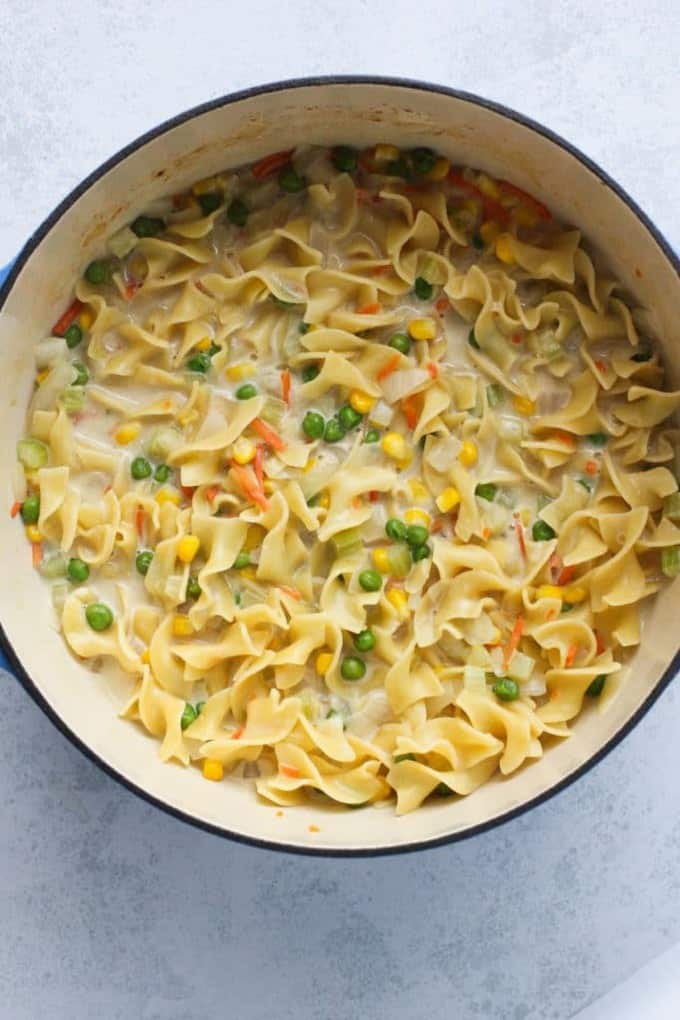 How to make vegan creamy veggies and noodles
Vegan half and half
If you want to make a dairy-free version, you can substitute the whole milk for a vegan cream. I tried this with Ripple's dairy-free half and half and it was just as luscious as whole milk. I rarely have milk in my fridge but this recipe made it worth running to the store to pick up a quart!
Vegan egg noodles
Keep in mind, this recipe does contain egg noodles so if you wanted to make this completely vegan, you'd need to substitute the noodles as well. I've found vegan-friendly "egg" noodles at Walmart. They look just like egg noodles and they taste pretty similar, but they're completely egg-free.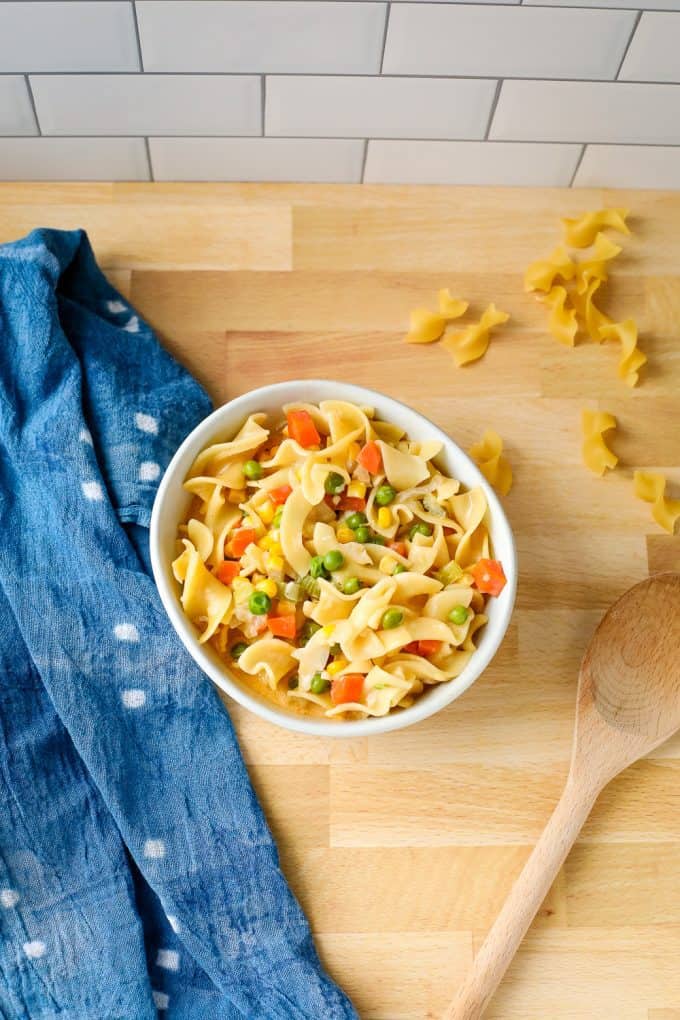 Tips for perfectly creamy veggies and noodles
Try to dice your onion, celery, and carrots into even-sized pieces so they soften at the same time.
When adding the milk, be sure to keep the heat low. If you turn up the heat too high, it will start to boil and cause the milk to curdle. (This doesn't mean you have to throw it out, it just won't be as smooth.)
I like to use a low sodium broth so I can control the saltiness. I recommend using a "chicken-style broth" for this but you can use your favorite broth. This kind from Edward and Sons is my absolutely favorite.
I like cooking this in a dutch oven (I have this Lodge dutch oven and I love it!) but you can also use any large pot that has a lid.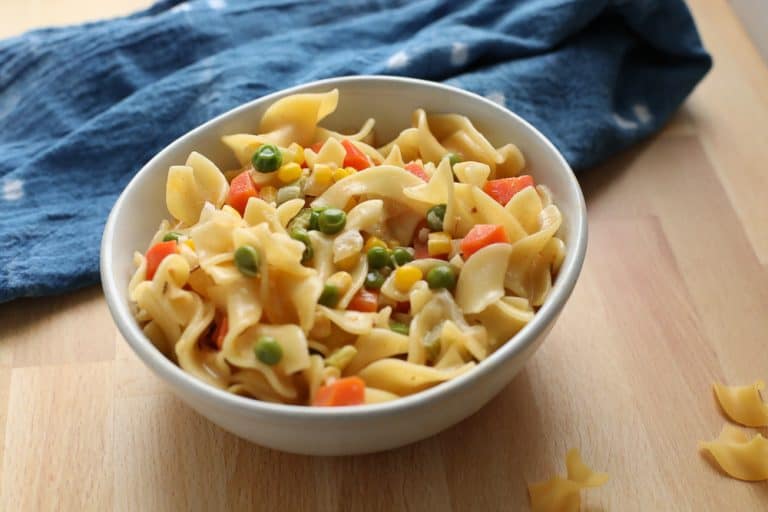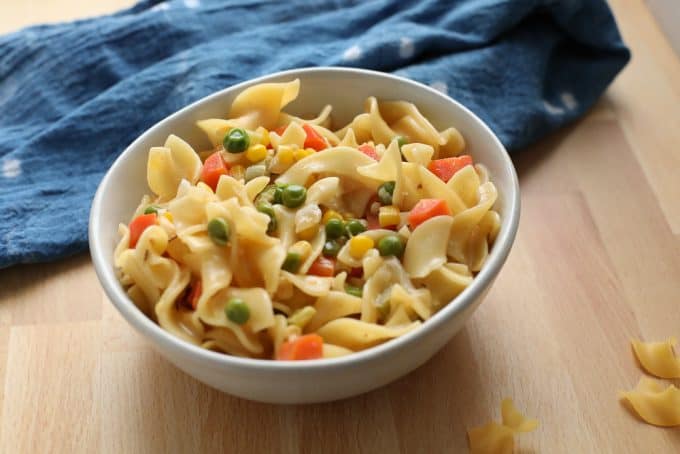 Print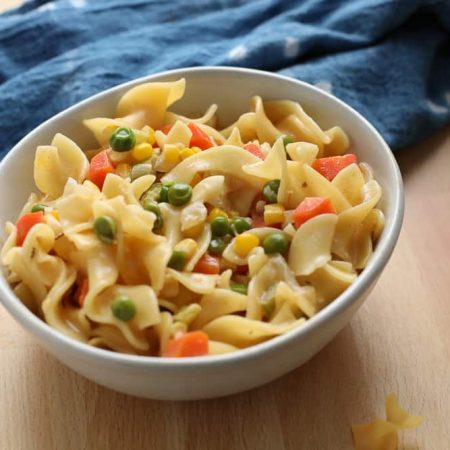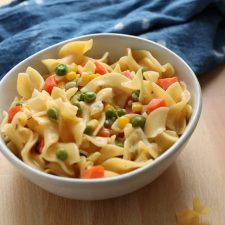 Creamy Veggies and Noodles
Author:
Prep Time: 10 minutes
Cook Time: 35 minutes
Total Time: 45 minutes
Yield: 4 1x
Category: Dinner
Method: Stovetop
Cuisine: American
---
Description
This vegetarian dish is made with creamy egg noodles and plenty of veggies for a rich and delicious comfort food. It's perfect for an easy weeknight meal!
---
1 tablespoon olive oil
1 yellow onion, diced
2 stalks celery, diced
½ cup diced carrots (about 3 large carrots)
4 cloves garlic, minced
3 cups vegetable broth (I like the "not-chicken" kind of broth)
2 cups whole milk
1/2 teaspoon dried thyme
1/2 teaspoon paprika
8oz egg noodles
1 cup corn (canned or frozen)
1 cup peas (canned or frozen)
1 teaspoon salt (or to taste)
---
Instructions
In a dutch oven or large pot, heat the olive oil over medium heat for 30 seconds.
Add the onion, celery, and carrots to the pot and cook for 6-7 minutes until the vegetables are tender.
Add the garlic and cook for 30 seconds.
Add the broth and bring to a boil.
Add the thyme, paprika, egg noodles, corn, and peas.
Return to a boil then reduce to a simmer, add milk, and cook for 10-15 minutes until the noodles are tender and the mixture has thickened.
Add salt, plus more if needed.
Let sit for 8-10 minutes before serving, to allow it to continue to thicken
---
Keywords: creamy veggies and noodles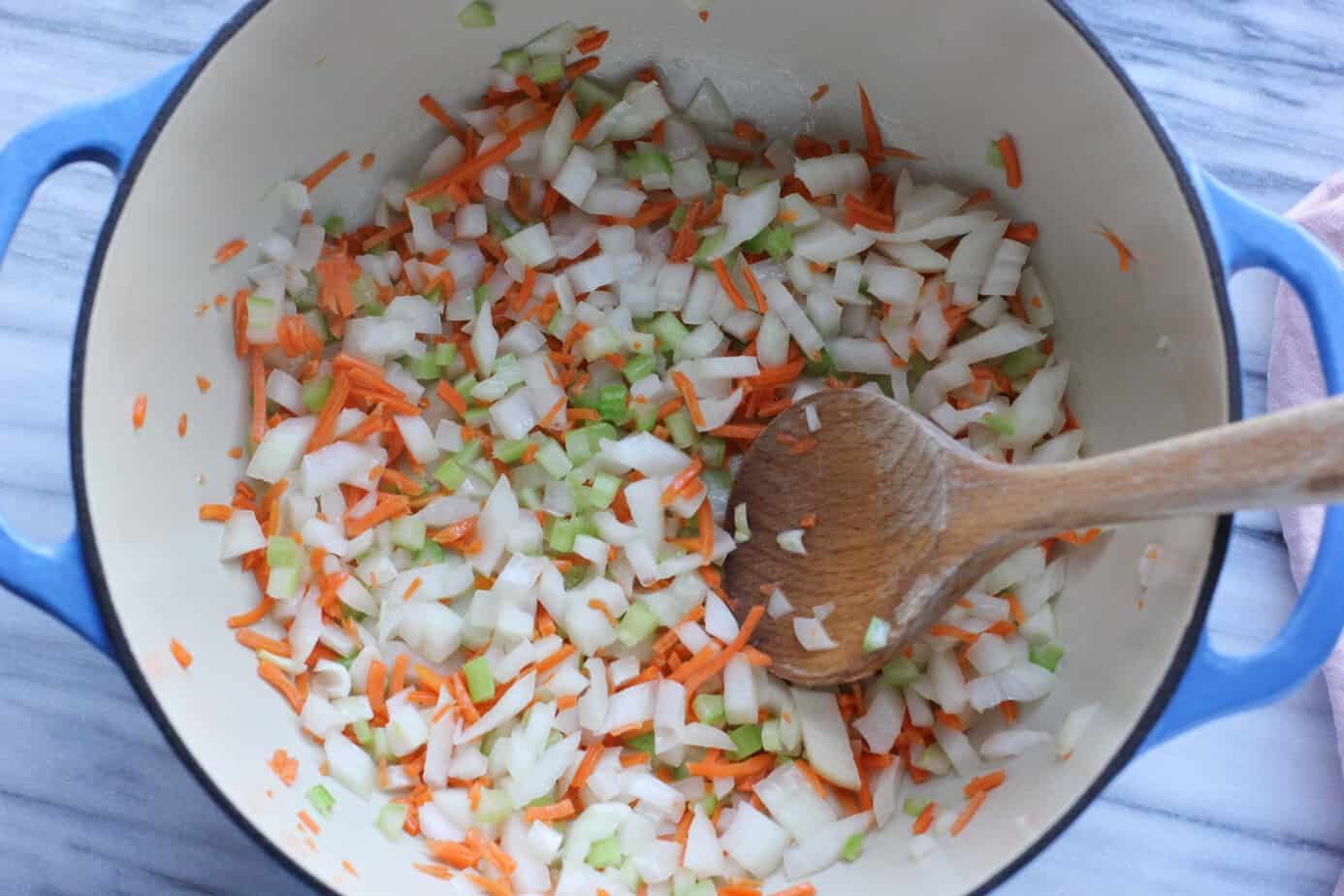 I made this in my 6 qt dutch oven but you can use a heavy-bottomed pot if you don't have a dutch oven. Mine is the Lodge brand and I love it. My parents got it for me for Christmas a few years ago and it's perfect for everything from soups to baking bread!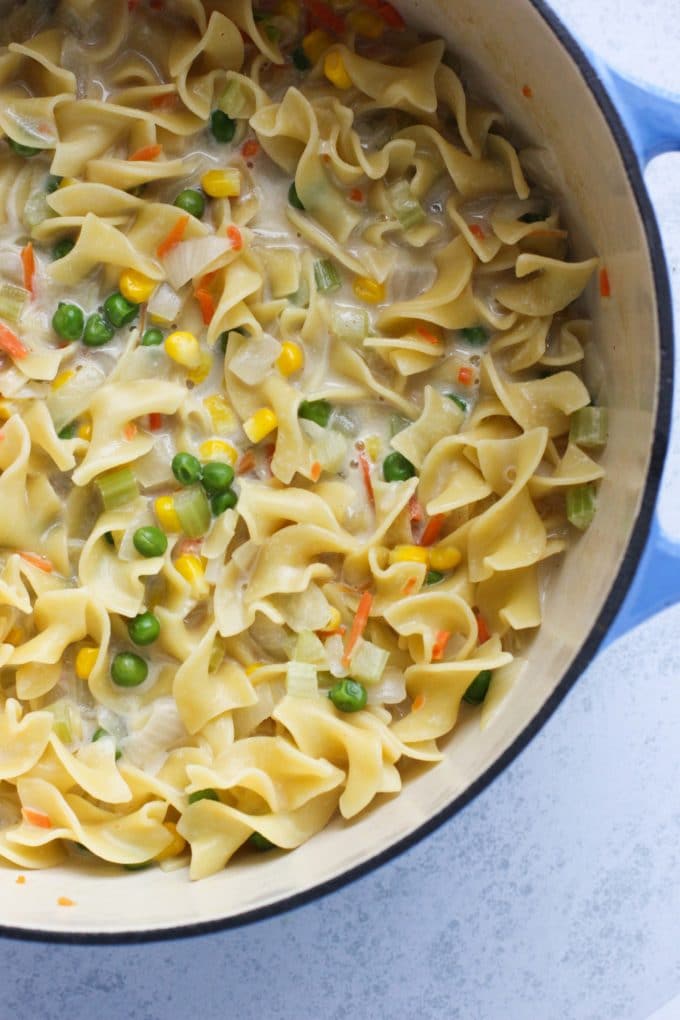 This recipe reheats well but I don't recommend freezing. Creamy soups tend to separate when frozen. When reheating leftovers, you may need to add a splash of water as it tends to thicken when cooled.
Looking for more one-pot recipes? Try one of these!
Quinoa Taco Skillet
Instant Pot Minnesota Wild Rice Soup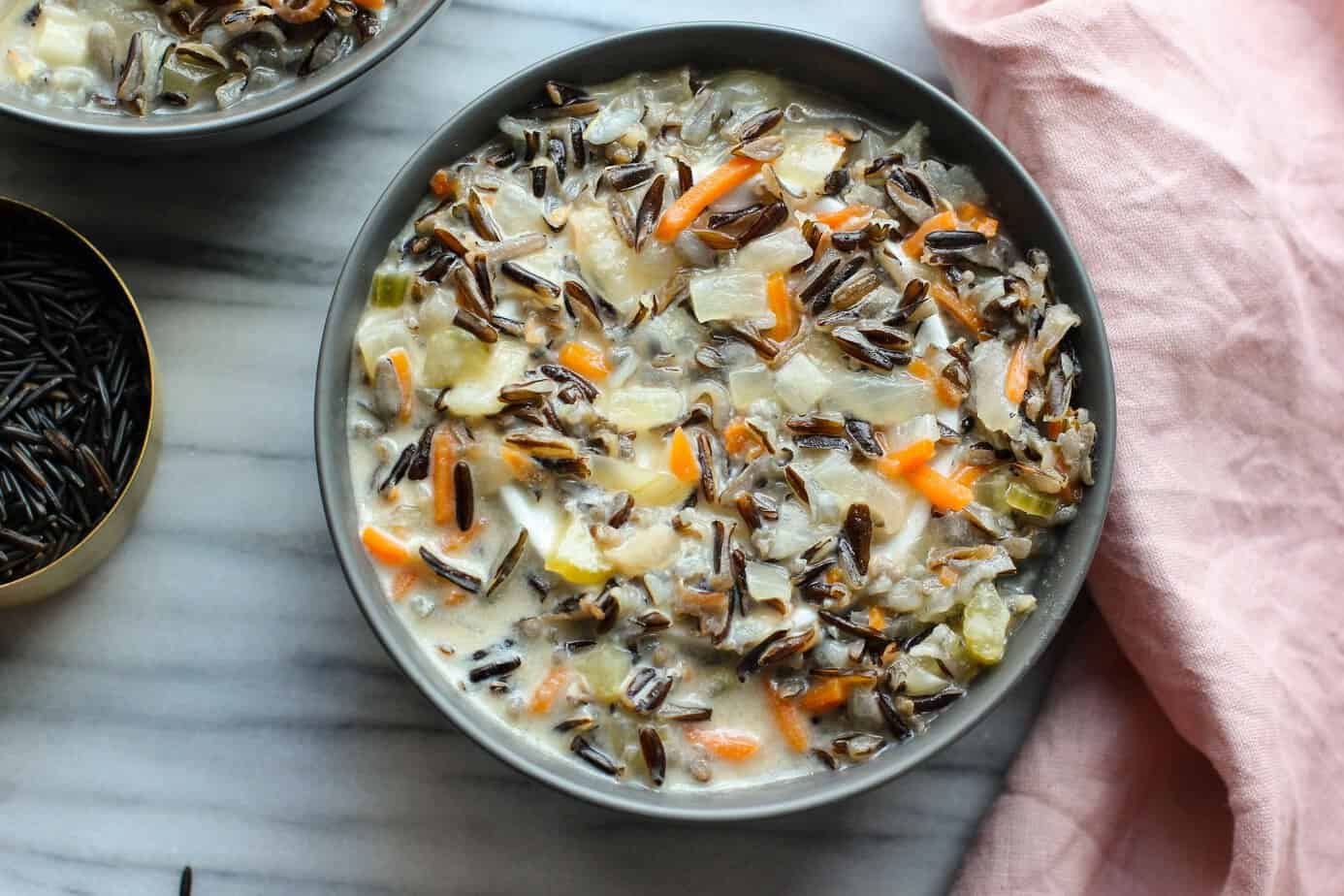 Moroccan Chickpea Soup
What's your favorite soup or stew?