Ready for some super-easy-no-excuse-not-to-make-them recipes? Each of these vegetarian recipes requires just 5 ingredients (or less!) so you don't have to make an extra trip to the grocery store.
These sticky garlic noodles from Kelly and Cricket can be made in 15 minutes which makes this a perfect weeknight meal or lazy Saturday dinner!
Or for a different twist on garlicky noodles, try this easy gluten-free garlic spaghetti from the Pretty Bee!
Obviously, the best way to eat broccoli is with cheese, which makes these broccoli cheddar fritters from KitchenJS the perfect appetizer.
While we're on the subject of appetizers, there's just something about artichokes that seems fancy to me. But these boiled artichokes with lemon butter dipping sauce from The Rising Spoon are fancy without being complicated.
Fresh bread on the table in just a few minutes? Yes. And the best part? There's NO yeast! Seriously, this olive oil bread is so easy.
This quinoa sweet potato lentil soup from Two Purple Figs is basically autumn in a bowl. I mean, does it get more fall than this?
Ok technically the sauce is 5 ingredients, so it make it into a full meal you'd need 6. But this 5 ingredient peanut sauce works well on noodles, rice, quinoa, veggies, or any combination of those things! So you've got plenty of options depending on what you have in your fridge.
Grab the last of the season's strawberries and make this strawberry mango asparagus salad from Stellicious Life! This healthy salad would make a perfect lunch or side dish.
I know it's kind of cheating because these 3 ingredient pumpkin muffins use a mix but… it's October so I can't not share them. Plus they're healthy & delicious. What more can you ask for?
Remember back in the day when Brussels sprouts had a bad reputation? Well, clearly that's changed thanks to recipes like this one. Try these vegan pesto Brussels sprouts from Avocado Pesto.
This grain-free granola is the granola that I make over and over again. It's one of my favorites because it's higher in protein and fiber than most granolas so it actually fills me up!
Tofu can be intimidating if you don't cook it very often, but this lemon soy tofu from Chelsea's Healthy Kitchen is an easy way to start. With just three ingredients, it's hard to go wrong!
I promise not to go pumpkin crazy on you but these easy cinnamon sugar roasted pumpkin seeds make an amazing salad topper. Or trail mix ingredient. Or straight-out-of-the-jar snack.
This list wouldn't be complete without a dessert option, so how about these super easy vegan + gluten free avocado truffles? I promise you won't taste the avocado but you will taste  melt-in-your-mouth deliciousness.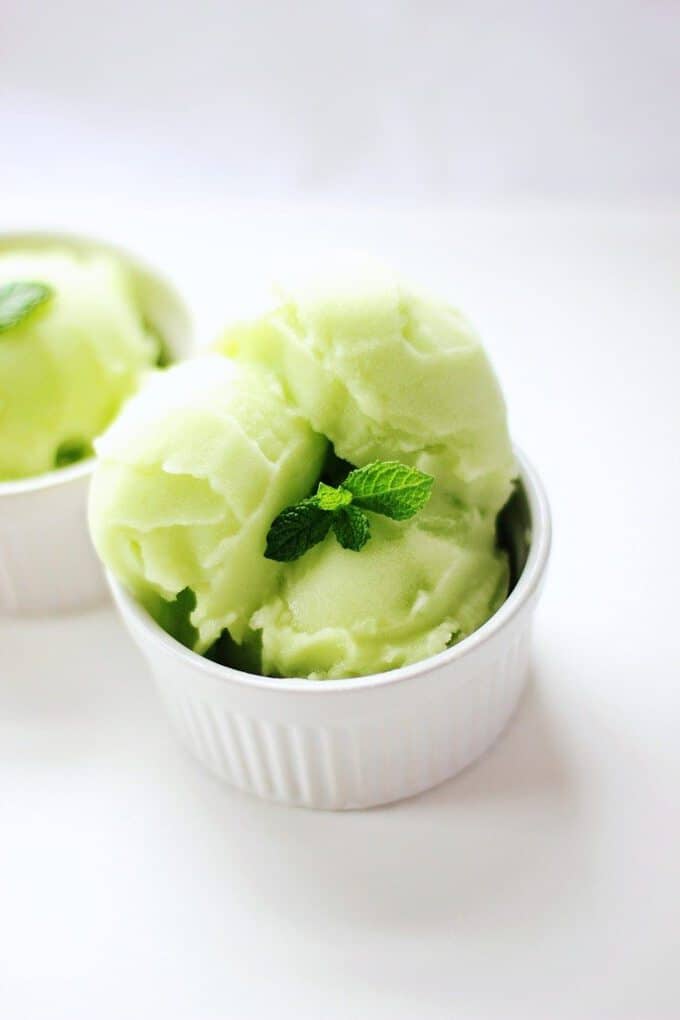 And if you're more of a fruit dessert person vs. a chocolate dessert person, then you must make this honeydew sorbet. With just a couple of ingredients and a few steps, you'll have homemade dessert in no time.
Clearly, vegetarian recipes don't have to be complicated! With just a few simple ingredients, you'll have your next breakfast, dinner, or dessert ready in no time!
Looking for even more easy recipes? I've got you covered!
Check out this list of 10 healthy vegetarian breakfast recipes!
What are your favorite easy recipes? (Feel free to leave a link in the comments!)