I've still been battling a pretty nasty cold, so much of the weekend was spent at home, on the couch. In an attempt to be somewhat productive, Alex and I watched Vegucated, a documentary about veganism which had been in my Netflix queue for awhile. Knowing that Shannon had recently watched it found it interesting, I figured it was worth a shot.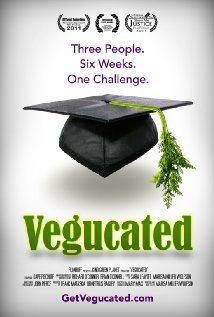 Overall, the documentary was mostly what you would expect. Similar to Forks Over Knives and Food Inc., it talked a lot about the health benefits of veganism, as well as animal rights. They took 3 meat-eating New Yorkers and put them on a vegan diet for 6 weeks, while educating them on the health benefits, and showing them footage of slaughterhouses.
The documentary was interesting. I've done a lot of research on veganism, since my 6 month vegan experiment, and I totally agree that a mostly plant based diet is generally better for your health, and better for the environment. I think my only problem with it was the focus on "veganism" as if it's an all or nothing kind of approach.
Do I think everyone should be a vegan? No. Not necessarily. I've already said that I don't think vegetarian is for everyone. I think food is a personal choice. (Read my thoughts on vegetarianism here.) However, I do think that everyone could benefit from more plants and less meat & dairy. Often I think people get intimidated by the 'vegan' label, and think "that would never work for me" rather than learning about the benefits of a plant based diet. I love Sarah's vegan-with-benefits approach. I found that I liked most aspects of a vegan diet, but sometimes it really was too limiting for me. I found I was able to eat healthier if I incorporated some eggs and dairy back into my diet.
I was going to post a new recipe for some gluten free protein donuts today, but in the spirit of veganism, maybe you should just check out these vegan donuts instead. (Don't worry, if you don't have a donut maker, you can use a mini muffin pan!)
Click the photo for a vegan cinnamon sugar doughnut recipe!
Have you seen Vegucated? What do you think about vegan diets?