The whole taking-pictures-of-every-meal is kind of a weird concept, isn't it? Brittany mentioned this last week, when she did a similar "What I Ate Wednesday" post, and I couldn't help but nod my head while I was reading it. It is kind of weird, taking pictures of everything you eat. But it's also accountability for me, and hopefully inspiration for you. It makes me look at a day of eats and identify why I'm starving in the afternoon, or that I really might be addicted to fro yo. It reminds me to eat leftovers, and to plan out my meals instead of eating the same thing over and over. So I hope you enjoy these posts! If not, come back on Friday 😉
So here's a snapshot of what I ate on Monday. It's not quite everything, but it gives you a sense of what my typical day looks like!
Breakfast
A bowl of plain Chobani + stevia with frozen blueberries and a little bit of Hudson Henry Granola for crunch.
I've been loving yogurt in the morning, especially now that the weather has warmed up. Frozen blueberries keep this breakfast super chilly. Around 10:30 I had a giant fuji apple, which went unpictured.
 Lunch
I had some leftover vegetable soup from Sunday's dinner, so I packed that, and then put together a Greek salad from the cafeteria. Romaine, red onions, cucumbers, & feta. 
 I've found that having something with my salad (rather than just a giant salad) helps me feel fuller, and more satisfied. Even if it's just a few pretzels or something, I think my body (or mind?) just likes having a little variety over lunch.
Dinner
I'd been craving kale salad, so I picked up a bag at the grocery store on Monday. I still had some Tahini dressing that I'd ordered from Relay Foods, so I massaged the kale with a little tahini dressing, and served it along side a grilled cheese. We had a little bit of red pepper cheddar bread leftover from the farmer's market, so we topped it with some mozzarella cheese and tomato. Nothing better than a grilled cheese!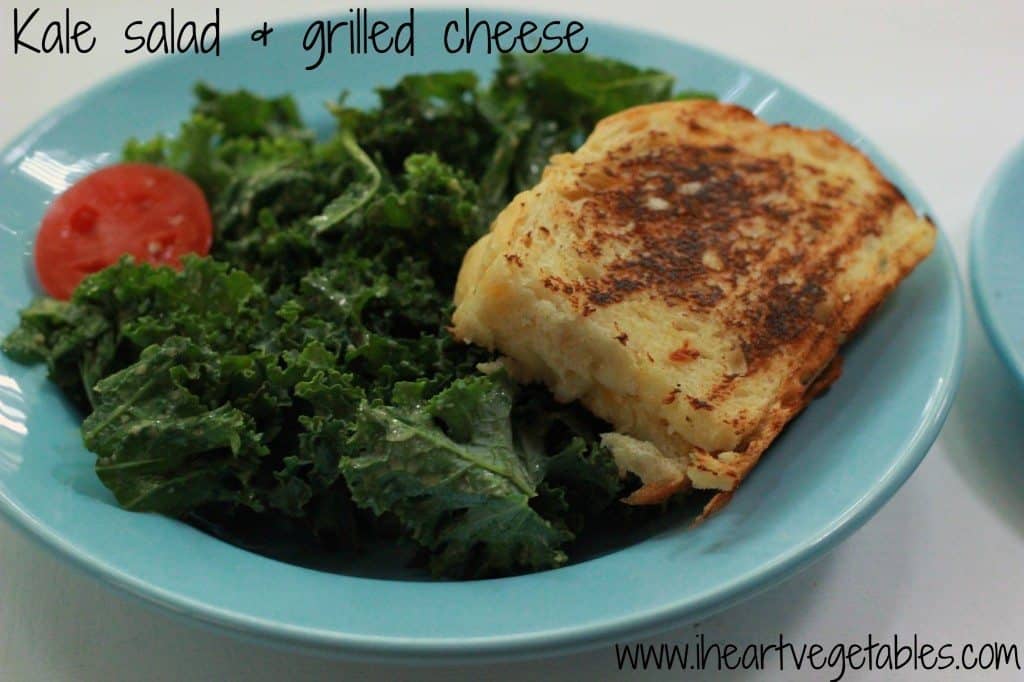 This totally hit the spot (eating what you're craving is SO satisfying!) and I wasn't hungry the rest of the evening. I did sneak a few Cinnamon Chex after dinner, for something sweet, but that's it. I really haven't been snacking at night, mostly because I'm usually doing something that keeps me pretty well distracted. I've found that I tend to actually be hungry for snacks in the afternoon, but at night, I was mostly eating out of boredom. Now I tend to have a glass of wine or some tea instead. That is, unless we're taking a trip to Sweet Frog 😉
Friday I'm going to do a review of my new favorite workout tool… and the best part is, it's free! 🙂 Trust me, it'll make your muscles sore, so check back soon!
What are you eating today?