Monday night I started feeling that scratchy feeling in my throat, so I had a feeling that a cold was coming. Sure enough, I woke up Tuesday with a sore throat, a headache, and a generally achy feeling. Not so fun. After going to the grocery store at 7:00am for cold medicine and Good Belly, I came back home and napped for a little bit. By the time I woke up, I was feeling a little better.
I drank a shot of Good Belly probiotics (because I'm convinced it helps my immune system) and then I fell back asleep for a bit.
I woke up a little later, and I didn't end up eating breakfast until around 11:00am, but I stuck with my normal smoothie. I wasn't really sure what to eat for a cold, but despite not having much of an appetite, I knew I'd feel better after eating this.
Lunch
Since breakfast was so late, lunch was equally late. Luckily, I'd just picked up some soup at Trader Joe's on Monday, so that made for an easy lunch.  I had a little bit of minestrone soup, with a side of roasted butternut squash. This soup was pretty good, for a canned soup, and it was fairly high in protein and fiber, but still low in calories. I'll be buying this again for sure. And the butternut squash was from my bounty box and was without a doubt one of the best butternut squashes I've ever had!
Dinner
Since I still wasn't feeling up to much, Alex brought over some Chipotle (the man knows the way to my heart) and I ate about half of this veggie bowl.
Brown rice, black beans, tomato salsa, corn salsa, guacamole and lettuce. So delicious. I couldn't quite finish it, but I made a pretty decent effort.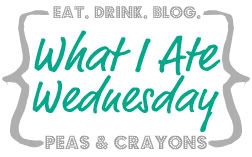 Despite feeling under the weather, I still ate pretty normally yesterday, and drank tons of water. I'll do a full review of the Good Belly products soon, but I have to say, I do think they help!
I didn't mind taking a rest day from working out, since I jumped back into running over the weekend, and then took another barre class at Local Barre on Monday night.
I forgot how intense those classes are! You can read about my first barre class here. I can't wait to go back once I'm feeling better!
What do you eat when you're sick?